UPI PIN is mandatory to send money using any of the UPI apps. You must know that Paytm, Phonepe, Google Pay, SBI Pay etc uses UPI payment system to send money. It is also used to pay merchants. In all these cases, you have enter the UPI PIN. But, often we forget it. don't worry, we can easily Reset this PIN.
In this post, I would tell you all the important things about the UPI PIN. You have to read this post till end so that learn everything about this crucial number. You can't take it lightly.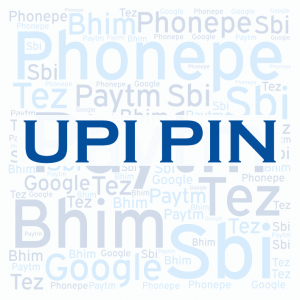 What is UPI PIN?
If you want to open the lock of your vault, you have to use the key. Similarly, if you want to use money from your bank account, you have to use the UPI PIN. This is mandatory, if you want to access your funds through the UPI apps.
For all other payment methods such as ATM, Cheque. NEFT, IMPS and RTGS, you need separate keys. In fact, bank need to authenticate before giving you the access to the bank account. The UPI PIN is such an authentication method. It is just like the ATM PIN. So Be careful about it.
| | | |
| --- | --- | --- |
| Payment Means | First Authentication | Second Authentication |
| ATM | Your Own Debit Card | ATM PIN |
| Cheque | Cheque Leaf from your own Cheque Book | Signature |
| Net Banking | User ID and Password | OTP or Debit card Grid |
| Card Payment | Your Own Card | ATM PIN or OTP |
| UPI Apps | Your Registered Mobile Number | UPI PIN |
Also Read: What is UPI
UPI-PIN is a 4-6 digit secret code you create/set when you link a bank account with any of the BHIM UPI–App. So, Each linked bank account would have its own UPI PIN. It is used whenver you send money or check balance through a UPI app. It works only on UPI apps or *99# banking.
Full Form of the UPI PIN
The full form or UPI PIN is Unified Payment Interface Personal Identification Number.
Apps which Use this PIN
Following apps use the UPI PIN for authentication of fund transfer. I am listing only the big apps.
Why a New PIN
This is necessary to make the BHIM or any UPI app secure. You would agree that there should be a PIN before the final approval of the payment. The mobile wallets do not require such PIN, hence they are less secure.
Read: How much Can you Trasnfer Through BHIM?
Because of the UPI PIN, any other person can't transfer money in case you have lost the smartphone. The app of your phone would ask for the UPI PIN which would be confidential to you. Besides this, Many UPI apps also ask a passcode before opening the app. Thus it gives you double security.
Also Read: Security of Tez App
In coming days, your fingerprints may replace this PIN. However, for that, you must have a fingerprint scanner phone or device. You may have used fingerprint authentication with the imobile app of ICICI Bank. Nowadays Phonepe also used the finger print verification.
UPI Transaction Limit of UPI and Other Banks
How To Reset/ Create UPI PIN
When you first time link a bank account to a app such as Phonepe, Google Pay, or Paytm, you have to create a UPI PIN. The process of first time creation and resetting of UPI PIN is the same. To reset the PIN, you must have the following information/things.
Last 6 digits of your debit card
Validity Date of your Debit card
Access to the Mobile number which is linked to your bank account.
Once, you have the above details and mobile phone, you can proceed to reset. To show you the step by step method, I have taken the example of Phonepe.
How To Change UPI PIN Without the ATM Card
Steps to Reset UPI PIN through Phonepe
Learn step by step process of UPI PIN Resetting. The process is similar for Google Pay, Paytm, BHIM and SBI Pay.
Reach To Bank Account Section


Open the UPI App (Paytm, Google Pay, phonepe) App and go to the Home Page. In the phonepe, you should Tap on the 'My Money'. You can find this option at the bottom of the Home Page. For other apps, you should reach to the section where linked bank accounts are listed.

Choose Bank Account To Reset UPI PIN


Now you would see your linked Bank Account. There can be more than one account If you have linked them. Choose the bank account to which you want to reset the UPI PIN. Below Every bank account, you would see the option to CHANGE BHIM UPI PIN and RESET BHIM UPI PIN. Tap on the Reset BHIM UPI PIN.

Enter Debit Card Details


Now you have to enter the Debit card details in the Pop-up Box. Take out your debit card and enter the last 6 digits. As you may know that every debit card number has 16 digits.
Enter validity or expiry date of the debit card. It is written just below the debit card number. However, some SBI cards don't have a validity date. In this case, you should enter 01/49. Tap on the 'Continue'.

Enter New UPI PIN


Now, you would see a field for the OTP and new UPI PIN. The Phonepe System itself detect the OTP sent to your mobile number. Hence, you are not required to enter it. Once, you see that OTP is filled automatically, enter the desired 4/6 digit UPI PIN. Most of the banks
require 4 digit UPI PIN. You have to enter the new UPI PIN again to confirm it. Tap on the submit.

UPI PIN Reset Complete


This completes the Reset Process of UPI PIN, you would see a successful UPI PIN Reset message in the screen. The message disappears after few seconds. You may also receive an SMS from the bank in this regard.
How To Change PIN
Changing UPI PIN is quite easy. As it requires less information. To Change it, you have to only enter the existing UPI PIN. On the basis of existing PIN, you can set the new PIN.
1- Open the UPI App home page and go to bank account Section.
2- Tap on the Change BHIM UPI PIN, written at the bottom of your bank account detail. If there is more than one bank account, choose the account carefully.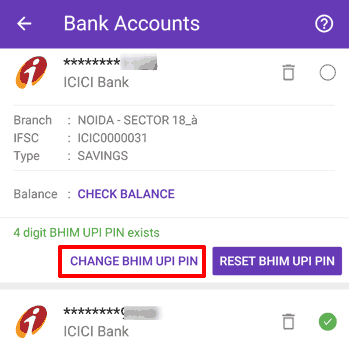 3- Now, you have to enter the existing and New UPI PIN both. Confirm by entering it again. That's it. You would see the success message on your screen.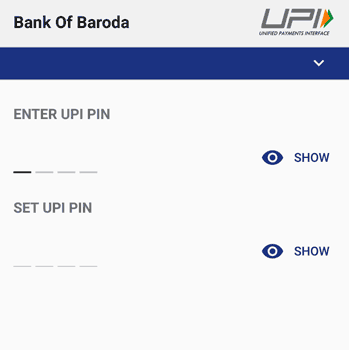 UPI PIN in USSD banking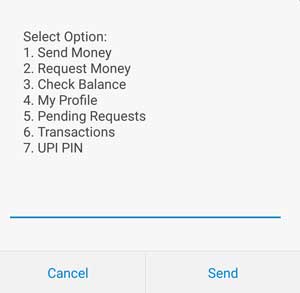 Just after the launch of BHIM app, BHIM USSD banking also changed. It has become simpler. Now there are new options. Instead of the term MPIN, now we can see the term UPI PIN. When you dial the *99#, you would see 7 options. The last option is for this PIN.
You can also reset and change the UPI PIN through the USSD banking. To Reset the PIN, you have to give the debit card details and enter the OTP. Changing the PIN in USSD is as easy as in the app. You must know that USSD banking works with feature phone without the internet.
UPI PIN, set through the USSD banking, can be used in the BHIM as well. Similarly, PIN set in the app can be also used for USSD transactions.
Further Reading – What is Contact-less Usage of Cards
FAQ
What if I enter the wrong PIN?
No problem, the app will prompt you to re-enter the correct PIN. Normally banks allow maximum 3 tries of PIN. After 3 wrong consecutive PINs, Your UPI PIN gets locked. It opens after 24 hours. Meanwhile, you can reset the PIN.
Does BHIM store my UPI PIN? How secure is it?
Bharat Interface for Money does not store or read your PIN details and your bank's customer support will never ask for it.
Should I tell UPI PIN to the bank executive?
Never! you should not tell UPI PIN what if the bank manager asks. Please do not share your PIN with anyone.
What if my UPI PIN does not Work?
If BHIM app is not accepting your correct PIN you can contact customer care to resolve the issue.