Merchants can also earn cashback by using the BHIM app. This incentive scheme is available to all the merchants who takes payment through the BHIM platform. BHIM platform includes BHIM app, *99#, QR code and VPA. BHIM cashback scheme can give upto ₹300 in a month. The scheme is valid till 14 October.  Now This scheme gives up to ₹1000 and it is valid till 31st March 2018 (Read: New Rules of BHIM Merchant Cashback Scheme)
In the BHIM merchant cashback scheme, you get at least ₹0.5 ₹2 per transaction. Compare this with the existing cashlesss payments which charges money from the merchants. BHIM is not only free but also gives you incentive.
Cash back incentives are as under:
o 20-50 payments Rs 50/- Flat
o Above 50th payments Rs 2/- per payment
o Max cash back Rs 1000/- per month
o Min transaction amount Rs 25/-
You must know that BHIM app is the easiest way of cashless transfer. It immediately transfers money without any charge. You can use the features of BHIM app in the feature phone by dialing *99#. The BHIM app works on the UPI Payment system. Many financial institutions has adopted this system for their mobile applications.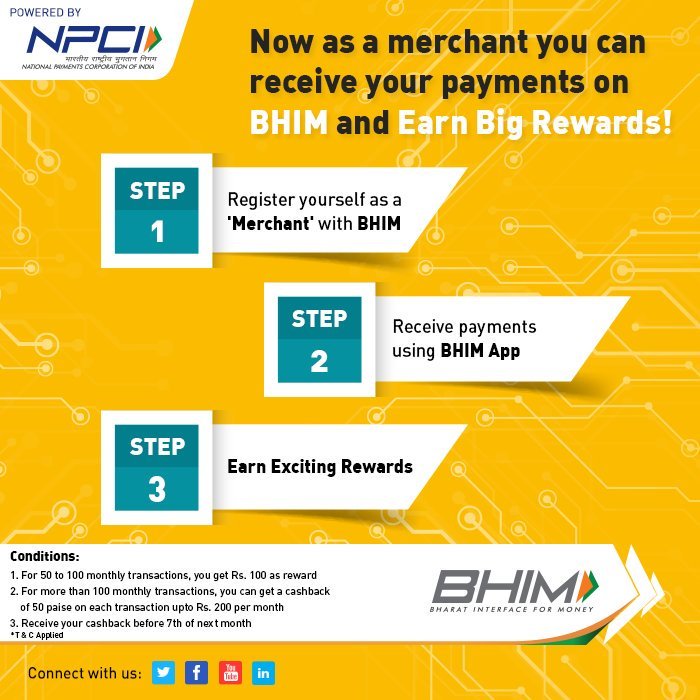 How To Earn Cashback
To earn money against every transaction you must be registered as a merchant. It is very easy and you can do it through the BHIM app itself. Follow these steps.
Download and install the BHIM app.
Open the app and create PIN to login.
In the dashboard, tap on three dots.
Choose the link 'I am a merchant'
Fill details about your business. These details are name of the business, merchant category, Address and account type.
Know More: BHIM Merchant Account
After successful entry about your business you become eligible for BHIM app cashback scheme. The money is credited to your bank account before 10th day of the next month. The Total cashback is credited monthly. Meanwhile, you can check  your cashback in rewards section of the BHIM app. To explore it, you should go into the transaction section and tap on three dots.
Features of Merchant Cashback Scheme
You should have at least 50 transaction through the BHIM or other UPI app.
Among 50 transactions, 20 should be from unique customers.
Only those transaction would be eligible for cashback which is for at least ₹25.
You would not get more than₹300 in a month.
The scheme would end on 14th October 2017.
All types of transaction, even collect request, is eligible for  reward.
There is informational video on BHIM Merchant  scheme. You can also watch it.
Along with merchants cashback scheme, you can also participate in BHIM app cashback scheme for users. This scheme gives you reward for using the BHIM UPI apps. It also gives a reward of ₹51 to the first time BHIM App users.