BHIM app provides the easiest way of money transfer. But the fund transfer through this app is subject to the limits. You can't pay as much money as you want. In Fact, BHIM has set a lower limit in comparison to other UPI Apps.The BHIM app has 3 types of transaction limits.
1. Per Transaction Limit
There is a upper limit of fund transfer through the BHIM app. You should take in mind this limit. Otherwise your transaction would fail.
Through the BHIM, you can,t pay more than ₹40 thousand in a transaction. Such transaction would not go through however, there would not be any deduction from your account either.
If You want to pay a higher amount, you can use other UPI apps, Most of the other UPI apps have a higher per transaction limit. Some of the apps permit upto ₹1 lakh per transaction.
2. Daily Transaction Limit
Besides the per transaction limit UPI apps have a daily fund transfer limit. In a day, you can't transfer money more than the limit.
The daily limit for BHIM app transaction is ₹40,000. If you want to transfer more than ₹40 thousand, wait for the date change.
This limit is applicable to your bank account. So, if you have linked more than one account with your BHIM app, you can use another account for sending the excess amount.
You can also use other UPI Apps for fund transfer. All other UPI apps permit upto ₹1 lakh in a day.
3. Number of Transactions in Day
There is also a limit to the number of transactions through the BHIM app. The UPI prohibits more than 10 transactions by an account in 24 hours. Therefore, you can't pay more than 10 times using the BHIM.
This limit of 10 transactions is applicable across the UPI apps. So, the total UPI transaction from a bank account should not cross 10, irrespective of the UPI app. This limit is enforced by the NPCI which manages the UPI Fund Transfer System.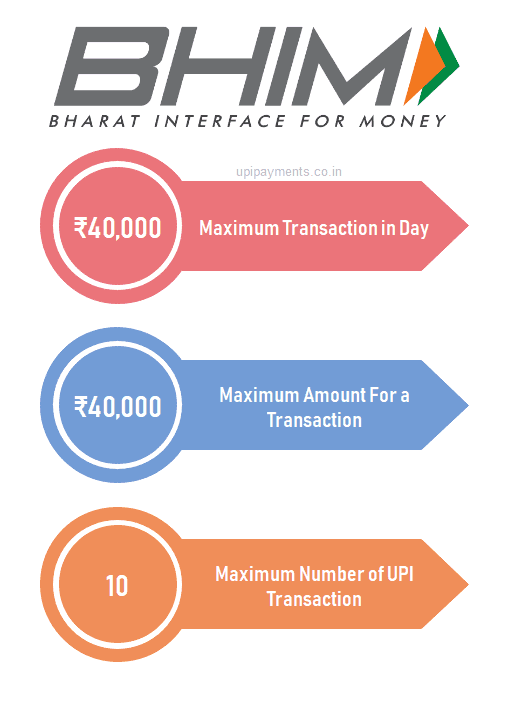 Security is the Reason For Limit
Why is there a limit on a transaction? Why can't NPCI make it unlimited just like the internet banking transaction?
The reason for this limit is the security. BHIM or any other UPI apps are very easy to use. You would also agree that banking through these apps is simpler than the net banking. There is less security check and hurdles. That is why you love UPI apps.
But, you would notice that it is not as much secure as internet banking account. In an internet banking, you have to give alphanumeric login and transaction password. These passwords are difficult to steal while PIN can be stolen easily. Besides this, banks further authenticate by asking questions or grid numbers.
On the other hand, one can fraudulently steal money by using your mobile number. The fraudster only needs to know your login PIN, UPI PIN and handset. In such case, the transaction limit would restrict your loss. No one would be able to steal a big amount from your account. Meanwhile, you can block your mobile number and online transaction.
Fund Transfer Limit of Other Means
Other UPI Apps
However, other UPI apps have a higher limit of a transaction. Tez, Paytm, Phonepe, SBI Pay permits the transaction of up to ₹1 lakh per day. It is applicable to single transaction as well. In fact, the NPCI has set the maximum limit for UPI transaction. This limit is ₹1 lakh. Most of the apps have permitted the transaction up to this limit. But, BHIM has a shorter bar.
IMPS
The maximum limit for IMPS is much higher, you can transfer up to ₹2 lakh through the IMPS.
NEFT
There is no maximum or minimum limits for NEFT fund transfer. But you have to wait for the actual transfer.
RTGS
The RTGS has a lower limit. You can use it only for the 2 lakh or above. There is no upper limit. It transfers money instantly during the bank working hours.