BHIM app not only makes you cashless, but also gives back the cash. The BHIM app referral scheme had made the adoption of BHIM app more rewarding. In this scheme, the person who referred BHIM app and those who used Bhim app get the bonus. You could make upto ₹25,000/month through this scheme. There was no limit for the referral. This scheme was valid upto 31st March 2018. But now there is more rewarding BHIM cashback scheme is running. This cashback scheme is valid upto the 31 March 2019. 
BHIM app is the easiest way of making cashless transaction. It is a mobile app promoted by NPCI. BHIM app works on the UPI platform. There are many financial apps which use UPI app payment system for the digital transaction. For example SBI Pay, Phonepe, ICICI mobile etc. The transaction to these app is also eligible for BHIM app referral scheme.
Do you also want to make some money through this referral scheme? It is quite possible. The scheme is very straightforward and anyone can participate in it. Government has launched a similar scheme for the merchants – Merchants cashback scheme.
BHIM app Referral Scheme and Code
The BHIM app referral scheme works like any other scheme. Rather, It gives some extra benefit. In this scheme both the parties earn bonus. Suppose you tell about the BHIM app to your friend. Subsequently, your friend downloads BHIM app and makes transaction through it. In this scenario, both of you would get bonus.
Also Applicable to *99# Banking
BHIM app referral scheme is also applicable for the *99# USSD Banking users. As you must know that *99# banking is now merged with the BHIM. In *99# banking, you can perform digital transaction without using an app or internet. It works on feature phone as well. The options in *99# banking is similar to the BHIM app. In this post, I would not mention the *99# every time, But all the information is valid for *99# banking as well.
How Much can You Earn
Unlike other referral schemes, It gives more benefit to the user. The person who refers the BHIM app gets ₹25, while the first time user would get ₹25. Earlier the referrer used to get only ₹10 for each referral. But after 14 August 2018, the government has increased it to ₹25 per referral. Thus, the referrer would have the chance to get multiple ₹25 by referring it to many people. You can easily make ₹200 by referring BHIM app to 8 people. Do you have to list of more than 8 people? Then, go ahead and snatch hefty bonus. The first time user of the BHIM app can also become referrer and earn ₹25 bonus for every referral.
BHIM app Referral Code
To qualify for BHIM app referral bonus, the user (referee) must use the referral code. Don't worry, this code is not a difficult one. Rather, referrer don't need to tell it. An user can easily put your referral code without asking for it. The referral code for the bonus is mobile number of the referrer. Isn't very easy?
Referral Conditions
To get bonus through the Bhim Referral, you have to fulfill certain conditions. I have listed these condition below.
To get Referral bonus, the BHIM user should be completely new. The bank account or mobile number should not be used earlier to send money through the BHIM, *99# or any other UPI app.
Referrer would get bonus only when referee makes at least 3 transactions using BHIM or *99#.
The referral code must be used during the first transaction. You would not get an option to enter referral code after the first transaction.
Total transactions value of the first 3 transactions should be at least ₹50.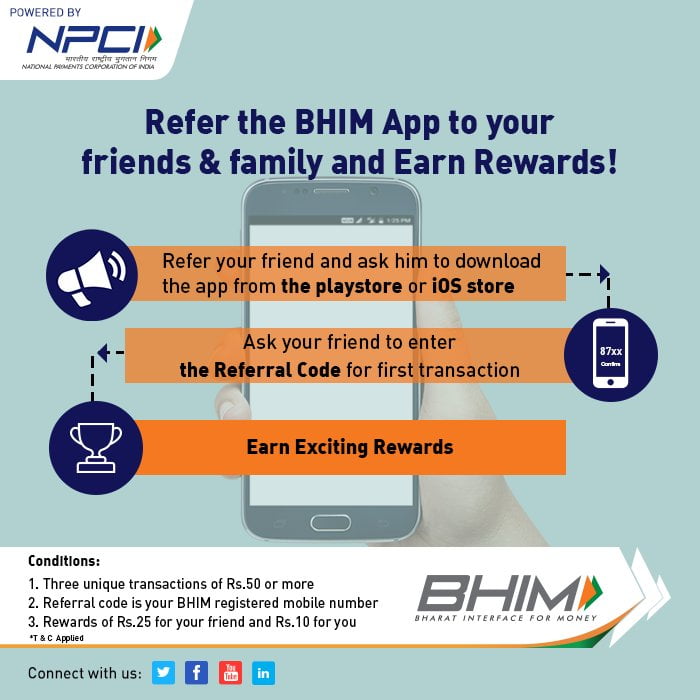 How To Get Referral Bonus
A new user of BHIM would get the bonus even without a referrer. You have to follow these steps.
Download BHIM app in your smartphone.
Register your mobile and bank account in BHIM app. The mobile number and bank account should be linked. The *99# users also need to register.
The registration of BHIM app requires the mobile number authentication. It is done through the One time password sent to your registered mobile.
Now you have to set the BHIM UPI PIN. It is necessary to make a transaction. There would be different BHIM UPI PIN for different bank account.
Now You have to send money to your friend or merchant. You can use the referral code during first transaction. The referral code would be the mobile number of the referrer. The referral code ensures bonus to your friend who has referred BHIM to you. However, you would get your bonus even without entering referrer code.
To be eligible for Referral bonus you have to make 2 more transactions. The total value of transaction should be at least ₹50.
After the 3 successful transaction you would get bonus of ₹25 in your bank account. Your referrer would also get ₹25.
To earn more, you can also encourage your friends and relative to use the BHIM or *99#. For every new user you would keep getting ₹25. You are free for unlimited referrals.
To check the Referral bonus you can go to the 'Transactions' section. Tap on 3 dots and choose the 'Rewards'. Your referral bonuses would be listed there. You can also watch following video to understand the this referral scheme better.
Did you find the BHIM app referral scheme rewarding and Easy? However, bonus or no bonus, We should encourage the cashless payments. There are other modes of digital payments except BHIM, you can also adopt them. For example Paytm, Freecharge, phonepe and Mobikwik are also popular mobile wallets to make payments and purchases.