The BHIM app is becoming the standard for making payments. The user base is increasing at a lightning speed. You may know the BHIM app is secure as every app-review is saying it. But have you ever wondered who made this app secure? Who designed and developed BHIM app? How was the journey of the BHIM app from a thought to 10 million downloads? In this post, I am going to tell you how BHIM app was made.
The government has launched BHIM app on 30th December. But the preparation for this started around 1.5 years back. The launch of the UPI android API, participating banks and allowing them to release their own UPI apps are all part of the journey. Let us talk from the beginning.
Launch of the UPI
BHIM app is a UPI-based app. UPI (Unified Payment Interface) is service which is used to make payments from one bank account to another. It is launched in April 2016 by Reserve Bank of India. The government also allowed the participating banks to develop their own UPI apps. The banks have started but the pace was too slow. Initially, government, as well as banks, did not promote UPI as it deserved. But soon after the demonetization UPI gained the speed.
Also Read: UPI Meaning and Full Form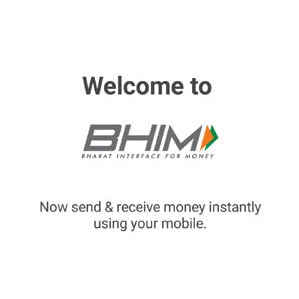 Scrapping of ₹500 and ₹1000 notes
On 8th November 2016, the government decided to scrap all ₹500 and ₹1000 notes. It allowed people to deposit or change their notes from banks and post offices till 31st December. Along with that, it also set the limit on withdrawals. Initially, the limit was ₹2000/day from ATM and ₹10000/week using cheque or withdrawal form. These curbs forced people to opt for the non cash digital payments . 
Need for a good and secure digital payment app was born
Facing cash crunch, people started to pay digitally using mobile wallets such as Paytm, Freecharge and PhonePe app. But the safety and security standards on wallets are not up to par. And also you had to recharge these wallets in order to use these apps for payments.
Thus the need for a good, reliable and secure digital payment was born. Moreover, UPI was also not getting as much of exposure as it deserves. Banks were not promoting their UPI apps much. So the government decided to develop its own UPI app.
NPCI and Juspay created BHIM
NPCI had selected Juspay Technologies to build BHIM app. Juspay is a young digital payment company from Bengaluru. It has designed and developed the BHIM app as per NPCI guidelines. NPCI also selected Lucideus to make the app secure. Lucideus is a cyber security company which is also responsible for the security of UPI databases.
These three jointly created a simple and secure BHIM app. They added three-factor authentication in BHIM app. One thing I must tell you  that credit/debit cards have only two-factor authentication. One is the card itself and the second is PIN.
While in the BHIM, the first factor is your device id and login PIN. The second factor is your mobile number which would linked to your bank account. And the third factor is your 4/6 digit UPI PIN. UPI PIN formerly MPIN is a PIN which only you know. Hence if you lose your phone, no one can use BHIM app because he/she does not know your UPI PIN.
The name of BHIM app
The full form of the BHIM is Bharat Interface for Money. It is named after late Dr. Bhimrao Ambedkar. He was a great leader and the creator of the Indian constitution. It was a great idea to name the app on him. Because he was the person who believes in equality between poor and rich and between upper castes and lower castes. The BHIM app is also like him. It does not discriminate between who have a smartphone and who doesn't. Everyone can use the features of BHIM in any phone. The BHIM also works on feature phone using the USSD banking. You only need to dial *99# in your any feature phone or iPhone to enjoy BHIM features. And if you are in android, install BHIM android app on your phone. BHIM app for iOS is not available yet.
BHIM app launched
Finally, the launch day arrived. 30th December 2017 was the day when the government introduced the BHIM app. The prime minister of India Mr. Narendra Modi himself launched the BHIM app. They dedicated this app to the 125 crore residents. The app was claimed to be secure, simple and fast and the app truly is.
BHIM is getting popular
The BHIM app got an overwhelming response from the people. It is getting popular day by day. It crossed 10 million downloads mark within 10 days of its launch. The PhonePe app, another UPI cum e-wallet app, took 5 months to get 10 million downloads. Though being a government app somewhat benefitted BHIM app. But it is not the main reason for its popularity. The app is well-designed, well-secured and well-managed. These are the things which make BHIM app one of the best UPI apps.
Future of BHIM app
Presently, the BHIM app is going well. The government is not in the mood of lifting the weekly cash withdrawal limit of 24000. Hence the number of digital payments is supposed to increase more. Considering the ease and security of the UPI and BHIM, it will be accepted by more people.
NPCI has also said that they will add aadhar payment facility to the BHIM. They are working for it. If this becomes reality then BHIM app will be the standard digital payment app.