One of the coolest features of BHIM is 'Request Money'. This feature is very useful if you want to get back your money from a friend. The merchants are also using this feature to get payment from the customers. In this post, I am going to tell everything about BHIM app request money feature.
What is BHIM app Request money feature
The request money feature in BHIM app is used to request money. You can request money from any BHIM or UPI user through this feature. This feature is very helpful for those who often receive payments. BHIM merchant account holders often use this feature to ask the amount from customers.
This feature makes the payments easier and faster. You can generate a payment request using payer's VPA aka UPI ID or mobile number. You can also generate payment request to your contacts if they are registered with BHIM.
Also Read: Top 5 benefits of UPI ID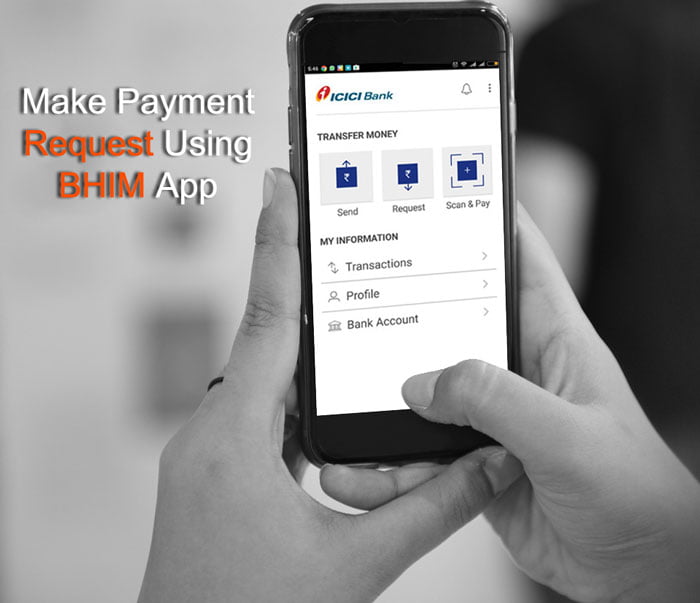 Steps to Request money
Open BHIM app and enter the passcode to sign in.
Tap on the Request button that is placed between 'Send' and 'Scan & Pay' button.
It will take you to the page where you need to enter payer's UPI ID or mobile number.
Here, enter payer's UPI ID or mobile number. You can also select one from your contact list by tapping on the contact tab.
After entering, tap the verify option next to it. Now, the BHIM will verify the UPI ID or mobile number you entered.
After verification, it will take you to the request page. BHIM will also show the name of the account holder in this page at the top. Hence, you can also confirm payer's identity from here.
Now, enter the amount you want to request in the given box. You also need to set the validity date of the request.
Also, enter the payment remarks. Though it is purely optional, I suggest you enter it to tell the payer about the payment details.
After entering all the details, tap on the Request button to generate the request. The payer will receive a request notification in the BHIM app as soon as you generate a request.
How Request Feature works
When you enter a UPI ID or mobile number and tap verify. The BHIM app checks its database for the authenticity of that UPI ID/mobile number. It lets you generate the request only after successful verification.
When you successfully generate the request, the app sends a notification in payer's BHIM app. Now, the player can either accept or decline the payment request. Say you received a payment request. You will see two options – Pay and Decline. You can choose any of these as per your preference.
If you think the request is legitimate then pay the amount. Keep in mind, you need to enter your UPI PIN in order to make the payment. But if you don't know who has sent you this payment request and why, then simply decline it. You can also block the person from sending you payment requests in future.
Other Functions of BHIM app
Along with request money feature, you would also get other benefits of UPI with BHIM app. You can send money through BHIM that is the main feature of the BHIM. Also, you can scan BHIM QR codes and make payments through it. And you can also generate BHIM QR code using the app itself. Apart from that, you can check the balance of your account as well. Below are some major functions of the BHIM app.
Send money
Send money feature is the main feature of the BHIM app. This is what the UPI and BHIM app is designed to do. It uses UPI ID aka VPA or mobile number to make payments to anyone. You can also send money using IFSC and account number. Moreover, you can make Aadhaar payments through BHIM app.
Scan and pay
This feature improves the speed of performing a transaction on BHIM. Using this feature, you can scan a BHIM QR code. And the app will take you directly to the payments page. Some QR codes contain details of amount and remarks as well. So, in most cases, you don't need to enter even amount or anything. All you need to do is enter your UPI PIN to complete the payment.
Balance Check
Now, you don't need to visit the bank to know your balance. Instead, you can check your account balance using BHIM anytime. Isn't it great? Apart from that, you can also check the past BHIM transactions using it.
Any Charge To Get money Through BHIM?
Do you know a unique feature of BHIM app? It is totally free. Yes, you read it right. The payment you receive or make through BHIM don't have any charges as of now. And even if the government decides to put some charges in future, they will be negligible. So, don't worry about the charges buddy and enjoy making digital payments using BHIM.