BHIM app is making India cashless. Most of the people have learned cashless transaction through the BHIM app. The simplicity and ease have made it most popular UPI app on the Android platform. Do you know because of the BHIM's popularity, now this term is added with the UPI? It is now called as the BHIM UPI. In fact, BHIM has become synonymous with the mobile fund transfer.
BHIM is Making India Cashless
What is BHIM App
BHIM is a super easy app for making digital payments. Any person who has a bank account can use BHIM to send and receive money. It is designed for smartphone users, however, feature phone users can also enjoy the convenience of BHIM Payments.
I love its simplicity and ease of the BHIM app. It is clean, clear and vibrant. Because if the limited functions, it is easy to operate.
Growth of BHIM App
Until October 2017, BHIM app has been downloaded 1.8 crore times from the Google play store. There must be lakhs of iPhone users who have downloaded it for iOS, as well.
Since the launch of UPI app, there have been numerous UPI based Apps, ICICI Bank's iMobile and yes banks Phonepe were the pioneer. Gradually, other banks also launched their UPI app. Finally, SBI Pay and Baroda MPay were launched. These two were simpler than others. But, the BHIM has got the real challenge from the Google Pay (Tez) App Which is similar to the BHIM in simplicity. Within one month from the launch, 7.5 million people downloaded the Google Pay (Tez). The Cash Mode of Google Pay (Tez) is quite popular.
Basic Features of the BHIM
Like other Android apps, The BHIM gives an easy method of payment and fund transfer. It has the following basic features of a UPI app.
You can transfer fund to any bank account.
You don't need to register the payee beforehand.
BHIM transfers money immediately.
Transfer money anytime, even on holidays or night.
You don't need to know the bank account number of the payee.
There is no need for 'internet banking activated' to use BHIM app.
Also Read: BHIM app Vs Google Pay (Tez)
Special Features of BHIM
Besides the regular features of a UPI app, the BHIM has some unique features.
Through the BHIM app, you can transfer money to a person only using his mobile number. It makes the money transfer very easy. I have seen the same feature in PhonePe app.
You can also transfer fund to a virtual payment address and bank account number.
A BHIM user can also make its own VPA besides the phone number.
Aadhaar number can be also used to make a payment. However, the Aadhaar of the beneficiary should be linked to a bank account.
The fund transfer takes little time as you have to enter PIN, not a password.
Besides UPI PIN, you would be able to authenticate the fund transfer using your fingerprints.
This app also works on feature phone without the internet.
You can also ask money using QR code.
There is 'Scan and Pay' facility. It makes the payment transfer fast, especially at a shop.
You can also check bank balance of the account. It is not limited to the parent bank of the app.
There is an extensive FAQ about the app. It makes BHIM app very helpful to new users.
The BHIM app gives you a link to directly call the respective bank if there is an issue. In fact, it has saved the customer care number of all the banks. You can also call the dedicated customer care of the BHIM.


New Features of BHIM
BHIM has included some cools features.
Now BHIM app is available on 9  different language. You can choose one.
You can block a person who sends the spam 'Collect request'
You can also report any issue through this app.
The payment banks are also getting linked to BHIM.
Merchants can get the payment through their workers.
Blinds can use Voice Text in the BHIM app.
Interface
Besides the Basic features and unique features of the BHIM app, I liked the interface. It looks very clean on white background. Because of the few option, App could use the larger fonts. You won't see any crowd in the screen. Even, you get to know all the option with only one look. The app has intelligently used the icons. This app is an example of minimal thinking.
Why one should download it
I recommend that any person who has not used any other payment app, should start with the BHIM. This app would give the experience of BHIM UPI app payment system. If you need some more features then only you should try other UPI apps, else it is a perfect UPI app.
Those, who are using other UPI apps, should also try the BHIM. Because you would definitely like its ease and simplicity.
This app doesn't link many bank accounts at a time. But we should understand that everyone doesn't have many accounts. Neither everyone wants to use every method of fund transfer. I think, transfer through the mobile number is most widely accepted and BHIM gives you the option to transfer fund using a mobile number.
The BHIM app is backed by the government of India, therefore, you can expect Aadhaar based fingerprint authentication would be available first to this app.
How To Download BHIM
You can download the BHIM app from the Google play store and App store. It is available for Android as well as iOS users. However, it is not available for window users.
To get the BHIM app from the Google playstore search for 'BHIM by national payment corporation of India'. Beware, as there are many fake apps in the name of BHIM. You may also see the Chhota Bheem apps. Hence look for the author. It should be 'National Payment Corporation of India'. You can also use the following URLs to directly download BHIM app.
https://play.google.com/store/apps/details?id=in.org.npci.upiapp

https://itunes.apple.com/in/app/bhim-bharat-interface-for-money/id1200315258?mt=8
How To Use BHIM – Sign up and Login
To use BHIM app, you have to sign up for it. Once you sign up, you have to log in each time you use the app. The app instantly locks in case you become inactive. To use BHIM app you have to go through following steps.
Install and Set Passcode
To use the BHIM App, you have to download and install it.
When you open this app first time, it would ask you to choose the language. You have the option to choose from the 13 language along with the Hindi and English.
It would also tell you some basic features of this app.
In the next step, the App would ask your permission to send and view SMS from your Phone. It is necessary to verify your phone number.
It may also ask to choose the SIM if you have two SIM in your phone. You should choose the number which is linked to the desired bank account.
Now You have to set the Passcode/PIN to open this app. It would be a 4 digit PIN. Without entering this PIN, you would not be able to open this app in future. confirm the PIN again by entering it.
Now you would reach to the dashboard of the BHIM.
Add Bank Account
Your first step in the BHIM dashboard should be the bank account linking. You need to link a bank account to transfer fund from that account or get money to the account.
Note, You can link only one account at a time in the BHIM app. Other UPI apps give you the facility to link multiple bank account.
To link bank account, you have to choose the bank name from the given list.
You would see your bank account/s of that bank. Select the account. It links the bank account to the BHIM app.
Anytime, you can change your bank account by going through the same procedure.
Set UPI PIN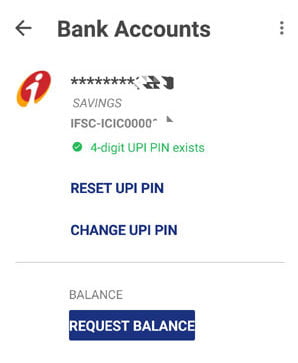 UPI PIN is required for the final authentication when you pay money to any bank account. The UPI PIN is the same PIN which is called as MPIN in other UPI apps.
To set the UPI PIN, click on the Bank account.
You would see the linked bank account. Below the bank account, you would also see about the status of your UPI PIN in green fonts. If you have previously set the UPI PIN, there would be a message about this.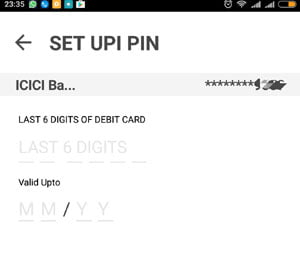 There would be links to RESET UPI PIN and Change UPI PIN. If you choose the RESET UPI PIN, you need debit card details to authenticate. You would also get an OTP SMS for authentication.
Changing UPI PIN is relatively easy. You have to only enter the existing PIN and new PIN twice. That's it.
Balance Check Through BHIM
You can easily check your bank balance using the BHIM app. It is easy and safe. The BHIM app gives you the facility to check the bank balance of all the accounts. Thus, you don't require to login each of net banking account. To know the account balance you have to go through following steps.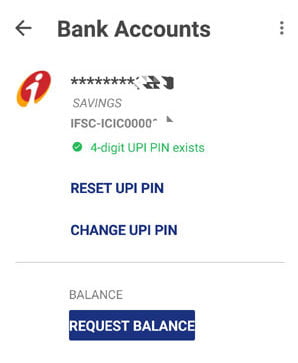 Login to BHIM app using your Passcode
In the dashboard click on the ' Bank Account'.
In the next page, you can see all of your listed bank accounts. However, you can check balance only of the first default bank account. To check the balance of another account, you can immediately make that account the default.
Click on the Request Balance Link
Enter the UPI PIN of the bank account.
The available account balance would be in front of you.
Now you can send and receive money through the BHIM app.
To send money, you have to click on the send money link.
In the next step, you have to enter the mobile number of the payee. You can also enter the virtual payment address or Aadhaar number of the payee.
Enter the amount and remarks to send money.
Finally, enter the UPI PIN. It is the same PIN which is used as MPIN with other apps. Once, you enter the UPI PIN, the money gets transferred to the bank account of the payee. You would instantly get a notification about that.
Send Money Using Aadhaar
BHIM gives you the facility to send money using the Aadhaar number. It is very easy you just require the Aadhaar number of the payee. Enter the Aadhaar number just like the VPA. It is enough to transfer the money. However, you must note that the beneficiary must his/her Aadhaar with any bank account. As you know that the money would go into the bank account. Today most of the people have linked their account with the Aadhaar.
To collect money Click on 'Request' on the dashboard.
Again you have to enter the mobile number or VPA of the person from whom you want the money. Enter the amount and remarks and submit. As you submit the request, the payer would get a notification in his smartphone. By following the notification, the person can accept or reject the payment.
You can also generate the QR code to request payment. To generate QR code you have to only enter amount and remarks. The payer would scan this QR code and accept the payment.
Limitations of BHIM
There are certain limitations of BHIM. These can be a disadvantage for some people but because of these limitations, BHIM app is very simple.
You can add only one bank account at a time.
You can have only two Virtual payment address. The first would be default containing your mobile number while you can set the second VPA.
Improvements Required
It should give the flexibility to enlist multiple bank account.
There should be a feature to capture QR code which is shared with you. You can't scan such QR code.
Banks Available on BHIM app
Customers of these banks can use the BHIM app. There are 35 banks.
Airtel Payments Bank
  Allahabad Bank
  Andhra Bank
Apna Sahakari Bank Ltd.
  Axis Bank
Bank of Baroda
 Bank of India
Bank of Maharashtra
Canara Bank
Catholic Syrian Bank
Central Bank of India
Citi Bank
City Union Bank
  Corporation Bank
DBS Bank
DCB Bank Ltd.
Dena Bank
Equitas Small Finance Bank
Federal Bank
Gopinath Patil Parsik Janata Sahakari Bank Ltd.
 HDFC Bank
HSBC
ICICI Bank
IDBI Bank
IDFC Bank
Indian Bank
Indian Overseas Bank
IndusInd Bank
Jammu & Kashmir Bank
Janata Sahakari Bank Ltd.
Karnataka Bank
Karur Vysya Bank
Kotak Mahindra Bank
Lakshmi Vilas Bank
Mehsana Urban Cooperative Bank Ltd.
Oriental Bank of Commerce
Punjab National Bank
Punjab & Maharashtra
Cooperative Bank Limited
Punjab & Sind Bank
Rajkot Nagarik Sahakari Bank Ltd.
RBL Bank
Saraswat Bank
South Indian Bank
Standard Chartered Bank
State Bank of India (SBI) & Associate Banks
Syndicate Bank
Thane Bharat Sahakari Bank Ltd.
The Kalyan Janata Sahakari Bank Ltd.
TJSB Bank
UCO Bank
Union Bank
United Bank of India
Vasai Vikas Sahakari Bank Ltd.
Vijaya Bank
Yes Bank
Coming Soon
Fino Payments Bank
Jio Payments Bank – RIL
Aditya Birla Payments Bank-Idea
Dombivli Nagari Sahakari Bank Ltd
Kallappanna Awade Ichalkaranji Janata Sahakari Bank Ltd.
Gujarat State Coop
The Hasti Coop Bank
Dhanalaxmi Bank
Tamilnad Mercantile bank.
General Questions About BHIM
You would have many queries about the BHIM. I am trying to answer as much as possible. To cover most of the topics, I have picked some questions and answers from the NPCI website.
What is BHIM or Bharat Interface for Money?
BHIM is a mobile app that lets you make fund transfer. It is very simple and easy. It is even easier than wallet. BHIM app uses the UPI platform for the transaction. That is why you don't require bank account number of the payee to transfer fund. Mobile number or virtual payment address is suficient to pay money.
What is this UPI?
Unified Payment Interface(UPI) is an instant payment system developed by the National Payments Corporation of India (NPCI), an RBI regulated entity. UPI is built over the IMPS infrastructure and allows you to instantly transfer money between bank accounts.
How fast is a transaction over BHIM?
It is very fast. You can complete whole transaction within 20 seconds. You would get SMS of credit and debit immediately.
Are there any charges ?
There are no charges for transaction through BHIM or any UPI app. However bank can charge nominal UPI or IMPS transfer fee. Relax! banks are not charging any such fees yet.
How can I use the BHIM app?
To start using BHIM all you need is a Smartphone, Internet access, an Indian bank account that supports UPI payments and mobile number linked to the bank account. Link your bank account to UPI through the app.
Does BHIM works on each Mobile platform?
No, It does not work on each mobile platform. As of now, it is only available for Android and iOS. the NPCI has not developed the UPI payment sysetm for Windows  mobile.
Can I send money to anyone using BHIM?
Yes, you can send money to anyone if the payee has any UPI app or created the virtual payment address of UPI. The BHIM uses UPI platform which facilitates fund transfer among the bank accounts. The banks account should from the UPI enabled banks. All the big national banks are the part of UPI. You would be able to transfer fund by entering bank account number and IFSC code.
What if I switch mobile operator. 
No problem at all. You can continue using BHIM as usual.
What if I change my handset?
If you change your handset, you will need to
1) Download the BHIM app again
2) Login with your mobile number and password
3) Allow BHIM to verify you
After verification, your account will be restored and you can use it as earlier.
Can I continue using my BHIM account if my mobile number changes?
Yes you can do it, but You have to follow these steps.
Update your mobile number with your bank.
When you open the BHIM app next time It would ask your permission to send SMS to verify the mobile number.
After the verification, your old BHIM account would be restored.
However, for security reasons this account will be activated after 24 hours.
How safe is BHIM?
BHIM is very safe. It has 3 factor authentication.
You have to enter the passcode of BHIM app every time you open it. The app logs out if there is inactivity for some times. It would also logs out if you attend a call or start using another app.
The BHIM app would work only on your phone. Your passcode or UPI PIN can't be used in any other phone.
Every transaction on BHIM requires you to enter your UPI-PIN which is known only to you. preventing unauthorised access. You should not share this UPI-PIN.
In addition all transaction initiated over BHIM are carried out over secure bank networks and all communications between BHIM and banks are over encrypted channels.
What if I lose my phone?
No other person can open or use your BHIM app as it requires passcode to open app and UPI PIN to transfer the money. However, you must block your sim immediately and inform to the bank.
Do I need to enable mobile banking on my bank account to use BHIM?
No, You don't require mobile banking activated for BHIM. However, your mobile number should be registered with the bank. Means, you must be receiving SMS of deposit and withdrawal.
I have transferred money but did not get SMS. Why is that?
When you pay through the BHIM app, you see the notification about it in the BHIM itself. The  SMS can delay due to problems of mobile operator or network.  In case you have not received your confirmation within an hour please contact customer support at your bank.
What are the transaction limits in BHIM?
Maximum amount for one transaction – ₹10,000
Maximum amount in 24 hours – ₹25,000
What is an UPI-PIN?
UPI-PIN (UPI Personal Identification Number) is a 4-6 digit secret code you create/set during first time registration with this App.You have to enter this UPI-PIN to authorize all bank transactions. If you have already set up an UPI-PIN with other UPI Apps you can use the same on BHIM.
Note: Please do not share your UPI-PIN with anyone. BHIM does not store or read your UPI-PIN details and your bank's customer support will never ask for it.
How to Reset forgotten UPI PIN?
Don't worry! In case you forget your UPI-PIN, you can reset it.
Go to App Home Screen ->Accounts->Forgot UPI-PIN ( for the desired bank account). Keep your debit card details handy and validate through a OTP.
How can I view my transaction history?
Go to BHIM Home Screen ->Transaction History. to view all your past and pending transactions.
Can I link multiple bank accounts with BHIM?
Currently, BHIM supports linking of one Bank only. At the time of account set-up, you can link your preferred bank account as the default account. In case you want to link another bank account, you can go to Main menu, choose Bank Accounts and select your default account.
Any money that is transferred to you using your mobile number or payment address will be credited into your default account.
Will BHIM ever auto-deduct payments from my account?
BHIM will not auto deduct payments from your account.
How BHIM get my bank a/c information?
This is a feature of the UPI payment platform (built by NPCI- an RBI regulated entity). The UPI platform retrieves the accounts details through your mobile number.
The collect request is not reaching the BHIM app. What do I do?
In this case, please first check the data connectivity. If you have entered your Payment Address at the merchant app, please re-check your Payment Address and re-try the transaction. Please check your pending transactions tab to check if the collect request has reached you.
I want to set my UPI-PIN but dont have an ATM/ Debit card.
You need to have your ATM/ Debit card in order to set your UPI-PIN for the first time or to reset it in case of a forgotten UPI-PIN.
I have selected the Bank name to link with UPI but it does not find my bank a/c .
In such a case, please ensure that the mobile number linked to your bank account is same as the one verified in BHIM App. If it is not the same, your bank accounts will not be fetched by the UPI platform. Also only Savings and Current bank accounts are supported by BHIM
Why is my UPI transaction failing?
UPI transaction can fail due to multiple reasons most likely due to connectivity issues to the banking system, incorrect Payment Address entered or wrong UPI PIN entry. If your transaction fails, please try again. If it doesn't work, please contact customer care of the bank.
My UPI transaction has failed but my bank account has been debited.
In case of failures money will be refunded back to your account. Sometimes this takes longer than intended. If you do not receive the refund within 1 hour, please contact customer support at your bank.
I have sent money over UPI which shows as successful, but the receiver has not received the money.
Do not worry, sometime due to banking system errors money transfer may take longer than intended. In case the receiver does not receive the amount within 1 hour, please contact customer support at your bank.
How do I set my UPI-PIN with the bank directly?
You will be to able to set your UPI PIN through any other UPI enable Bank app.
Is there any limit to the number of UPI transactions I can make?
Yes. NPCI imposes a limit of 20 successful UPI transactions per linked bank account per day.
How do I pay an online merchant through UPI?
When you shop-online, you can pay through UPI when you see UPI as a payment option. On clicking that, you will need to enter your Payment Address (xyz[at]upi). Once entered, you will receive a collect request on your BHIM app. Enter your UPI-PIN here and your payment will be complete. As easy as this.
Who Made the BHIM App
The BHIM app is made by the National Payment corporation (NPCI). The Juspay has prepared its payment infrastructure. While Lucideus has worked on security aspect. You can read more about the making of BHIM app.