Many people are searching for BHIM APK. BHIM APK is a file which is used to install BHIM app without using Google Play store. In this post, I will tell you where to find BHIM APK and how to install BHIM APK on your phone. I will also tell you whether installing BHIM APK is safe or not.
What is an APK?
APK refers to the Android application package. It is an installer file for android operating system. It works just like .exe file works on windows operating system. You have to install it on your phone before you start using it. Some of the apps are not available in the play store for some reasons. Sometimes play store crashes and you cannot install any app from play store. Android operating system has a solution for this situation. It allows you to install an APK file which you get from the web or anywhere else. You can search and download APK file from external sources such as APKMirror. These APK files can be installed on your Android phones.
Where to find BHIM APK?
There are too many websites which have the links to download BHIM APK. But you should be very careful when you download BHIM APK. APKMirror and AppBrain are two famous websites which have the APKs of almost all apps. These websites are there for a long time and are trustworthy. However, downloading and installing an APK file from unknown sources is risky. But if you certainly want then I suggest you download BHIM APK from APKMirror.
Read: BHIM For PC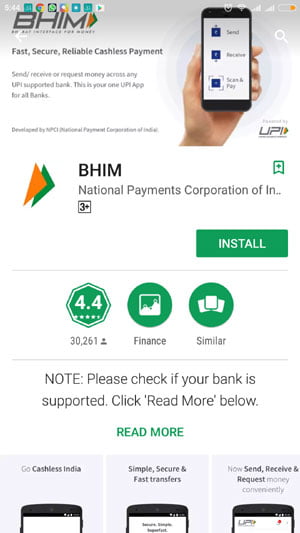 How to install BHIM APK
First, make sure that you download BHIM APK from a trusted source. Then you need to follow some simple steps to install BHIM APK. The option to install external APK files is turned off by default in android. You need to enable this option to be able to install BHIM APK.
Go to settings.
Find the 'Security' option and open it.
Scroll down and find 'Unknown Sources' option.
Turn this option on. It will show you a warning message while turning on. Tap on OK to finish turning on.
After turning on this option, find downloaded BHIM APK file on your phone. Tap on the BHIM APK. It will open app details page. Click on Next and then on Install. BHIM APK will be installed on your android smartphone.
Risks in installing BHIM APK
The apps which we install from the google play store are safe and secure. These apps do not have any malware and viruses. Because Google playstore includes an app after examining and scanning it thoroughly. However, installing an APK file from external sources is not safe.
You cannot recognize an APK file without installing it. Hackers can change the code of an APK file easily. They can modify BHIM app in a way that sends all your entered bank details to hackers. Now if you download the file and install it on your phone, it will send all your details to the hackers.
The hackers would able to control account on your behalf.  even they can permanently damage your phone. Moreover, it is also possible to rename any APK file. Anyone can name a virus file after BHIM APK.Therefore, it's a good practice to install all apps from the play store, if available. I recommend you to not install BHIM APK on your phone. Instead, go to Google play store and install BHIM App from there.