Though the digital payments had become easier than before. But to make these even easier the government has launched Bharat QR code. It is a single inter-operable QR code. Bharat QR is supposed to take digital payments to a higher level of convenience. You may have some questions regarding Bharat QR such what is a QR code? How does Bharat QR code work? Why is Bharat QR important? And many others. This post will answer all your questions.
The government is pushing digital payments vigorously. For this, it has already taken many steps. Last year, it had launched Unified Payment Interface (UPI). UPI was a revolutionary decision of the government. And after the demonetization, it had taken some more bold steps such as limiting cash withdrawals and cash payments. It also announced rewards for digital payments through Lucky Grahak Yojna and Digi Dhan Yojna. After that, it had taken another revolutionary step. It developed and launched BHIM UPI app to make digital payments even faster and easier.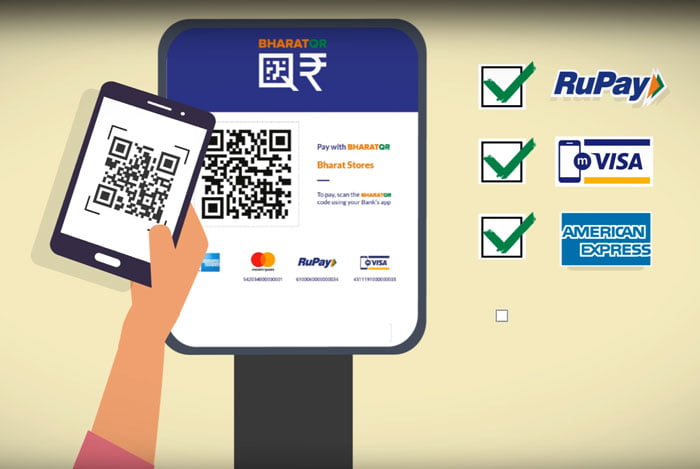 What is a QR code?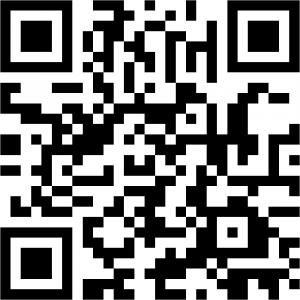 A QR code consists of black squares arranged on a white background. It holds the information about the item with which it is linked. It stores the information in machine readable format. This information can be read using specific application and a smartphone camera. QR codes are used to contain URLs, product details and even bank details nowadays. With QR codes, you do not need to enter the payee details manually. All you need to do is scan the QR code and every information will automatically be entered in your system.
Bharat QR: combining all in one
Before Bharat QR, QR code based payment system was somewhat closed. Many wallets and card companies give the feature of QR code. mVISA by VISA and Masterpass QR by MasterCard were the two main QR based platforms. Wallets like Paytm and freecharge had also integrated QR codes. But they were limited to their own platform. For example, a QR code generated by Paytm could only be used to pay using Paytm itself. People like me who rely more on digital payments always wanted a common QR code.
The Indian government have heard us and launched Bharat QR code. This service combines all major card companies in a single system. Currently, three card companies are connected with Bharat QR – Rupay, VISA and MasterCard. American Express will also come on the Bharat QR soon as said by one of its officials.
Now, no matter which company's card you have you can make payment to every card or bank account with Bharat QR. Presently, 15 banks have come with Bharat QR including all major banks. These banks are- Axis Bank, Bank of Baroda, Bank of India, Citi Union Bank, DCB Bank Ltd, Karur Vysya Bank, HDFC Bank Ltd, ICICI Bank Ltd, IDBI Bank Ltd, Punjab National Bank, RBL Bank Ltd, State Bank of India, Union Bank of India, Vijaya Bank and Yes Bank Ltd.
Why is Bharat QR an important step?
Even after all initial steps, the payments were a little bit time taking. Though many people have moved to digital payments such as UPI and card based payments. But both the merchants and the customers face some hassles in digital payments. A customer needs to enter a merchant's details such as account number, mobile number or VPA every time. And if he/she is paying with cards then he needs to swipe the card on the PoS machine. The merchant needs to have a PoS machine which is costly.
Though there are some other options such as Paytm, Freecharge or Mobikwik with a similar feature to Bharat QR. But all of these are semi-closed wallets. Both the parties need to have the same app to send or receive money. And merchant needs to transfer the money from the wallet to the bank account very often. These apps also have transaction limits associated with them.
But Bharat QR has solved all of these problems. Now you, a customer, do not need to enter merchant details every time. You also do not need to swipe your credit, debit or prepaid card on swipe machines. Even you do not need to take all your cards with you every time you go out.
With Bharat QR, you only need to scan the Bharat QR code with your smartphone camera. Enter the amount and UPI PIN to make payment. There is no need of carrying card or swipe machine. The digital payments are now truly got easier and faster with Bharat QR code.
Benefits of Bharat QR code
Bharat QR code is one of the most important step of making India a less-cash society. It has following benefits.
For merchants
It allows merchants to receive money without the use of POS swipe machine.
Merchant don't need to invest into POS machine.
There would not be lower transaction fees for using POS machine of banks.
Money will be credited into the account immediately.
Unlike mobile wallet there would not be any limit to transfer money into the bank account.
For customers
A customer can pay to merchant without using debit card. There is no need to carry card.
There would be less chance of fraud as your card details does not get exposed. The card swipe exposes your card number, CVV and expiry date.
Also Read: Transaction Charges of Debit Card Swipe
How to Receive payment Through Bharat QR Code
If you are a retailers or a shopkeepers, you can easily generate Bharat QR code and start accepting payments going through following steps:
Link your bank account with BHIM App.
Generate your unique Bharat QR Code from BHIM App.
Print the QR code and stick it on your counter
Now customer can pay you using your Bharat QR code
How To Pay
To make payments using BharatQR, you need to have a smartphone obviously. You also need to install BHIM or your bank's app. Not all the apps from banks are compatible with BharatQR. For example, ICICI bank integrated BharatQR in its Pockets and iMobile app. HDFC has chosen its PayZapp to add BharatQr code feature. All other supported banks will also integrate BharatQR in at least one of their apps soon.
To Pay through the Bharat QR code you must have a smartphone with camera.
You should have installed a payment app which uses the Bharat QR code. Many banks apps use the Bharat QR code.
Login to your mobile app and choose the payment through QR code.
Scan QR code of the merchant
Enter the amount, description and PIN to make payment. That is it.
Also Read: Samsung Pay: What is unique about it
Types of Bharat QR Code
BharatQR code can be of two types. The first one is static QR code. It is generated by a merchant to receive payments of any amount. The merchant needs to generate it, print it and paste it on the outside of its shop. You, a customer, needs to scan this QR code with BHIM UPI app or any other bank-specific app. The app will read all the details from the BharatQR and will ask for the amount. Enter the amount and pay. The payments in BharatQR are done using IMPS, hence the money will instantly credit in the merchant's bank account.
The second type of BharatQR is dynamic. Dynamic codes are generated for single use only. To generate dynamic code the merchant needs to enter the amount and generate the code. No need to print or paste dynamic code because the code will become unusable. He or she only needs to show the code to customer and customer needs to scan this code. As the amount is already entered by the merchant, the customer needs not to enter it again. The payment will be done as soon as you tap on the pay button.
Like Bharat QR code, the BHIM Aadhaar App has also eased the merchant transaction. It is the most convenient payment system at the counter of the merchant.