The banks give special facilities to kids. There are dedicated bank account for the children as well. These saving account would inculcate the habit of saving among the kids.
Thus in this article, I will tell you the top 7 savings account for kids especially in the context of the year 2020.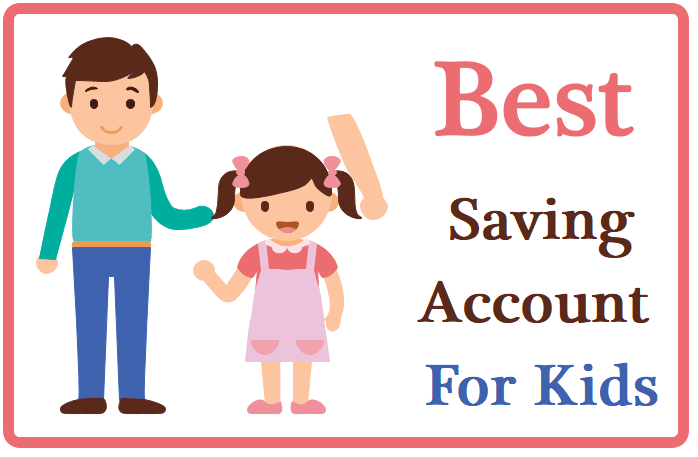 1. SBI's PehlaKadam and PehliUdaan
First of all, let us see the kids savings accounts by SBI. India's largest bank State Bank of India provides two types of kids savings account. The first is PehlaKadam and the second is PehliUdaan. There are some common and different features in these two savings accounts. The common features of both the accounts are-
Both accounts have internet banking and mobile banking facility
The daily transaction limit through internet banking is ₹5000. And through mobile banking, it is ₹2000.
There is no requirement of Monthly Average Balance (MAB) and minimum balance in both the accounts
But the maximum balance limit is ₹10 lakh
Both accounts have Auto sweep facility
Now see the special features of both the accounts-
Suggested – How To Check your Account Balance in a Minute
A. Special Features of PehlaKadam
PehlaKadam savings account is a joint account. The primary account holder is the kid and the secondary is the guardian or parent.
The kid may be of any age below 18 years at the time of opening the account.
A personalised cheque book to the guardian in the name of the minor.
Minor's photo embossed ATM cum Debit card with the joint name of minor and guardian. ₹5000 is the withdrawal and POS limit of this card.
Overdraft facility to the guardian.
B. Special Features of PehliUdaan
PehliUdaan savings account is a singly operated account. Thus this account is in the name of minor only.
The minor should be between the age of 10 to 18 years. Hence below the age of 10 years, a child can not open this account.
Personalised cheque book in the name of the minor if he can sign uniformly.
Minor's photo embossed ATM cum Debit card in the name of minor only with the same transaction limit of ₹5000.
No overdraft facility.
2. ICICI Bank – Young Stars and Smart Star Account
Like SBI, ICICI has also two kinds of Kids savings account. Young Stars Account and Smart Star Account.
Young Stars Account is for those kids who are between the age of 1 day to 18 years. But for this account, you must have a separate account in ICICI. However, if you have not you may open two accounts simultaneously for you and your child.
On the other hand, to open a Smart Star Account your child must have above the age of 10 years but below 18 years.
Now see the features of both the accounts-
A. Features of Young Stars Account
Debit card facility is available to make POS transactions and to withdraw money from ATMs.
Standing Instructions facility is available.
B. Features of Smart Star Account
Smart Star Account is also available in two variants-
(i) With Guardian Consent:- It has a debit transaction limit of ₹2 lakh in a financial year.
(ii) Without Guardian Consent:- This type of account has a debit transaction limit of ₹50,000.
Moreover, Smart Star Account has a debit card facility as well. Through this card, your child can make a transaction and withdrawal up to ₹5000.
Personalised cheque book in the name of the child.
Other free features like internet banking, mobile banking, email statement and prepaid mobile recharge facility are available as well.
3. HDFC Bank – Kid's Advantage Account
HDFC Bank has given the name to its kid's savings account as Kids Advantage Account. But to open a savings account for your child you must have a savings account with HDFC bank. Kids who are under the age of 18 years are eligible for Advantage account.
Look at the special features of this account-
You would have to maintain a minimum balance of ₹5000 in your child's account.
You may opt for a Standing Instruction facility to transfer fund from your account to your child's account.
Child's account has an auto sweep facility as well. So a surplus amount in the account become transfers to a Fixed Deposit account. Thus it earns higher interest.
ATM/ International Debit card facility is available for a child between 7 – 18 years of age.
Through the debit card, the child may withdraw per day ₹2500 at ATMs and spend up to ₹10,000 at the Point of Sale locations.
SIP facility, Net banking, Mobile banking, NEFT etc facilities are also available.
Through the PayZapp, Chillr, Debit Card the child has a facility to pay utility bills.
Most importantly, Free Education Insurance Cover of ₹1 Lakh is available in case of death of the parent or guardian in a road, rail or air accident.
4. Kotak Bank – My Junior Account
Kotak bank offers savings account for kids namely My Junior Account. Most importantly, Kotak is the only bank which is giving the highest interest @5% per annum on the savings account. Moreover, Kotak has bundled other offers with this account as well. For example-
A bunch of two accounts, Junior Savings Account and Guardian Savings Account
And an investment plan with this account. Either a Recurring Deposit (RD) or a Systematic Investment Plan (SIP)
You may choose any investment offer out of RD or SIP. And it is not so expensive. Because ₹2000 per month is the minimum amount to invest in Urban areas and ₹1000 in Rural branches. Its tenure is for 36 months.
Besides the bundled offer you may choose a standalone Junior Account. So the other Junior Account variants are Platina, Ace, Pro, Classic, Edge, Nova. Thus neither need to open a guardian savings account nor to select an investment option (RD or SIP). It means you can open a simple Junior Account for your child.
Along with the above offerings, Kotak is providing some other benefits as well. Have a look-
ID card for your child
Personalised Junior Debit card in the name of minor only. And it will be on the request of the guardian.
But to get the debit card facility, the child must be above the age of 10 years.
Remember, the withdrawal limit through the debit card is ₹5000 only.
Exciting reward programme. This programme has several benefits like vouchers, movie tickets, discount vouchers and many more.
5. Axis Bank – Future Stars Savings Account
Axis Bank Future Stars Savings Account is for the children under the age of 18 years. But if the child is below the age of 10 years, then the parent or guardian has to manage the account.
Features and Benefits of Future Stars Saving Account are-
You can open the minor account in the name of your child with an initial deposit of ₹2500.
You can track the account via monthly electronic statements.
This account has a free cheque book, SMS alerts and internet banking facility.
Currently, the Axis bank is providing interest on minor account @4% per annum. But the account balance should be ₹50 lakh or more.
If the account balance is less than ₹50 lakh the interest rate will be 3.5% per annum.
A personalized Visa Classic Debit Card facility for the Kids.
This account has a benefit of Individual Accident Insurance Cover for the minor child of up to ₹2 lakh. But the card must be swiped once every six months.
In addition, you get a combined responsibility in case of loss of card or purchase protection from any fraudulent use of card.
How To Set Limit of your Debit Card
6. United Bank Children Savings Account
Another government owned bank United Bank of India is also providing a Kids Saving Account. This is Children Savings Account. The main features are-
A child who is between the age of 10 to 18 years can open United Bank Children Savings Account
The account will be in the single name of the minor child
The initial minimum deposit amount at the time of opening account is very low. It is for ₹50 only.
The same amount is required to maintain the minimum balance
Specially designed free passbook and free cheque book
No transfer charges from one bank to another.
Recommended– SBI ATM Daily Withdrawal Limit
7. Indus Young Saver Savings Account
IndusInd Bank provides kids saving account in the name of Indus Young Saver Saving Account. The IndusInd bank has divided this account under the two criteria of age.
A. If the child is above the age of 12 years
Then you can open a simple minor account in your child's name.
B. If the child is below the age of 12 years
In this condition, you can open a minor account as an 'Under Guardian' account. Then you would have to operate the account as a parent/ guardian. But the status of the account will be changed once the child crosses the age of 12.
Other Features
You have to maintain ₹5000 as an Average Monthly Balance in the minor's account.
After the age of 12 years of the child, a Debit card will be issued in the name of the child. The name of this card is 'Unique Gold Debit Card'.
In addition, the cheque book facility is also available in the name of the child.
Thus you have seen the top most saving accounts for kids. You can choose the best suitable Kids account.