It is a recession time. We have become very conscious of the money. Thus we want to save every paisa.
Your credit card can also help in this regard. The Amazon Pay ICICI bank Credit card is one such card. Which can give exceptional cashback.
In this post, I would discuss whether this card is good for you. Should you apply for this? What is the process and how much reward and cashback would you get? Read till the end for greater benefits.
Don forget to read the portion where I would tell you the truth behind generous reward of this card.
1. Benefits of the Amazon Pay ICICI Bank Credit Card
This is the first thing you would like to know about a credit card. Before going into the detail of the credit card let us talk about the benefits.
i. Common benefits of a Credit Card
You may be aware about the basic benefits of the credit card. Such as It gives you the capability to pay without having a money.
By using the credit card you can buy goods, pay bills and avail services. It can also be used for online transactions and international transactions.
Credit card also gives the reward points as you shop. You can redeem these points for some goods.
The credit card does not charge interest for your expense unless you miss the due date of bill payment.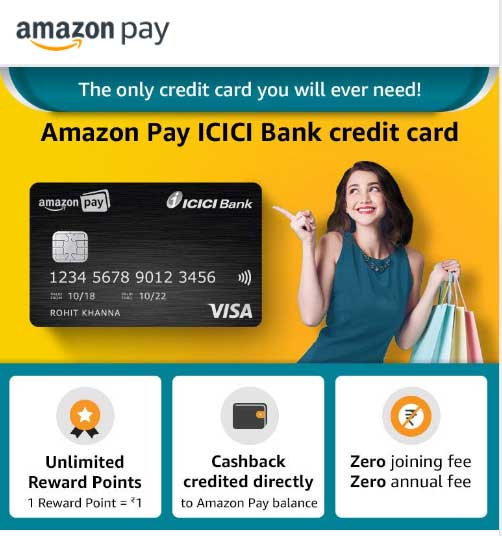 Now I would tell you about the unique benefits of the Amazon Pay ICICI card. These benefits make this card so special.
ii. Superb Reward Points / Cashback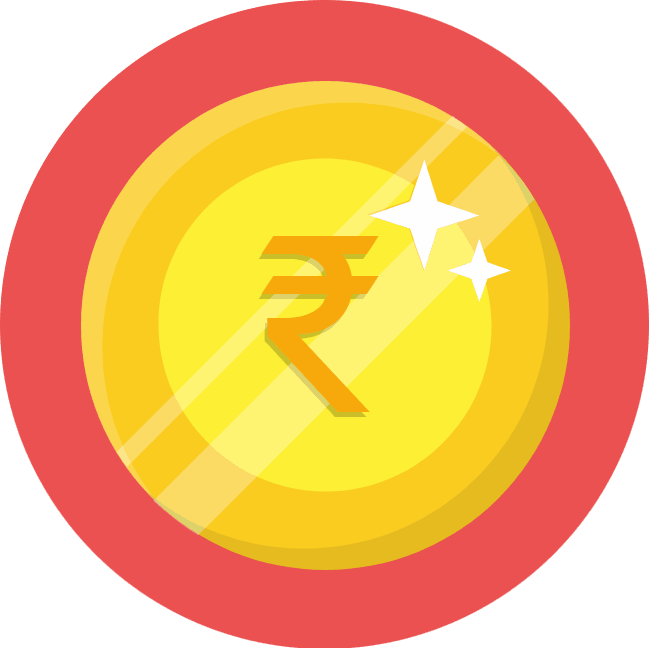 Normal Credit cards gives one or two reward points on the expense of ₹100. But One reward point does not mean one rupee. Rather, two or three reward point has value of one rupee. In effect, you get cashback of 33 paise or 50 paise on the expense of ₹100.
But, the Amazon Pay ICICI Bank Credit Card gives you outstanding reward. It gives upto 5 reward points when you spend ₹100.
Moreover, one reward point of the Amazon Pay ICICI Bank Credit Card has the value of one rupee. Effectively, you get the cashback of upto ₹5 when you spend ₹100.
Note, every expense through this credit card does not qualify for this much cashback. But, you would get at least ₹1 for the expense of ₹100. Reward points varies as per the type of expense. I Will elaborate it further.
Very few cards give such generous reward or cashback. Only the Standard Chartered Manhattan card is comparable to this card. But there are more limitations.
iii. No Annual Fees, No Joining Fees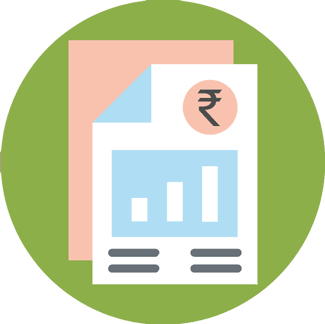 The Amazon Pay ICICI Bank Credit card does not charge any joining fees to get this card.
You also do not pay any annual charges. This card is free for life.
Often, the credit card companies can charge the joining fees and annual fees. Which can go upto ₹5000.
Of course there are free card as well. But, the cards which give lucrative reward points and benefits do charge the annual fees and joining fees.
Although it is true, the most card companies waive the annual fees if you spend a minimum amount through the card. But meeting the limit is not possible for everyone.
iv. No Fuel Surcharge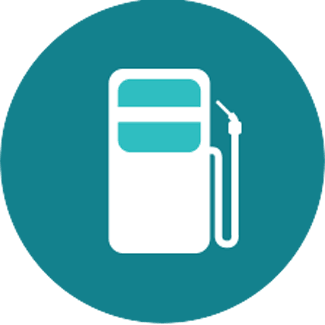 This card gives another big benefit. You have not to worry about the extra charge while paying at the petrol pump.
Normally, you have to pay fuel surcharge if you use the credit card at petrol pumps.
The Amazon Pay ICICI Bank Credit Card does not levy fuel surcharge. So you pay only the cost of petrol or diesel. Nothing Extra.
In fact, credit card companies incur cost to when you use it. This cost is recovered by the merchants in the form of merchant discount rate. However, in case of petrol pumps it is not possible as petrol pumps earn low margin. They can't afford to give 1-3% Merchant discount rate. Thus credit card companies recover their expense from the customer by levying fuel surcharge.
v. Introductory Cash Reward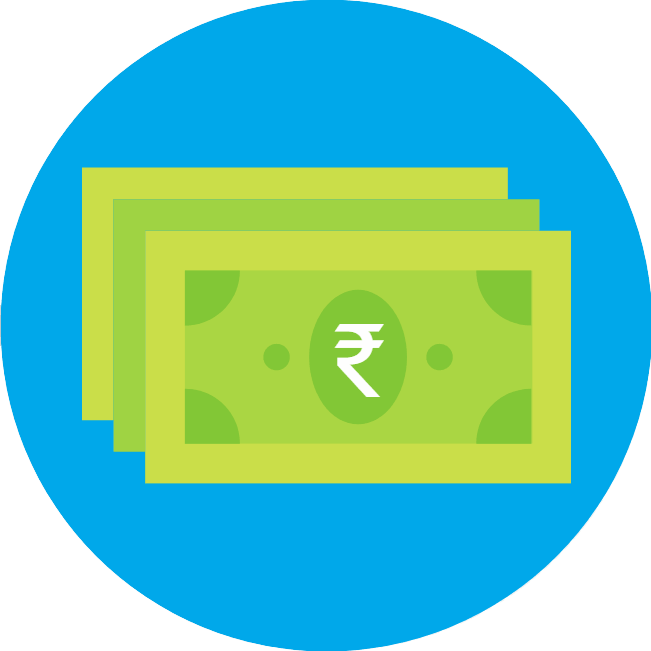 The Amazon Pay ICICI Bank Credit Card gives you decent amount just for joining this card. It is a welcome gift and certainly you would be pleased.
The amount of this gift may change. Earlier it was ₹ 700 for prime members but now it is ₹500. At the time of writing this article, the Non prime member are getting ₹400.
This amount is credited to your Amazon Pay wallet. It can be used to purchase from Amazon or its partner sites.
vi. Good cashback from Amazon Partners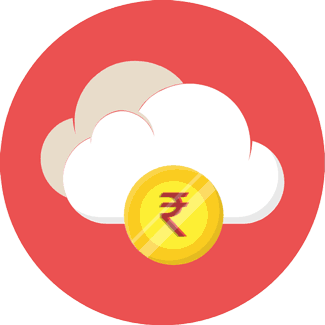 The amazon has established partnership with some other merchants and online retailers. These retailers has adopted the Amazon Pay for the payments.
The Amazon Pay ICICI Bank Credit Card gives higher cashback if you use this card at these retailers.
It gives 2% Cashback when you pay using this card at these partner sites.
Suggested – How to Find UPI ID in Amazon Pay
2. Schedule of Cashback
The main attraction of this card is the cashback in the form of the reward. Hence it is would be good if you know these cashback better. It would help you in taking the informed decision.
| | | |
| --- | --- | --- |
| | | |
| | Type of Purchase | Cashback |
| 1 | Shopping at Amazon.in which results in Physical Delivery (Prime Member) | 5% |
| 2 | Shopping at Amazon.in which results in Physical Delivery (Non-Prime Customers) | 3% |
| 3 | Any other purchase at Amazon.in which does not required physical delivery e. g softwares, ebooks (All Customers) | 2% |
| 4 | Bill Payments, Recharges, services | 2% |
| 5 | Payment using Amazon Pay at partner websites (e. g. Bookmyshow, Yatra, Redbus, Fasoos) | 2% |
| 6 | Any other payment by Amazon Pay ICICI Bank Credit Card | 1% |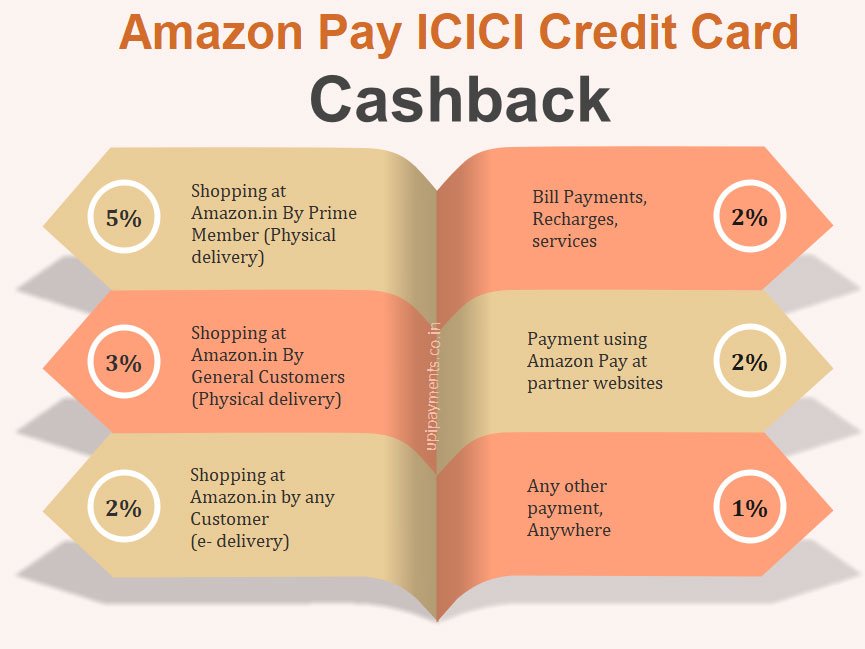 Let us see how this card benefits me. I am Amazon prime member and Following is my shopping pattern. I have taken my average monthly expense.
| | | | |
| --- | --- | --- | --- |
| | Expense Category | Amount | Cashback |
| 1 | At Amazon (5%) | ₹5000 | ₹250 |
| 2 | Amazon Partner Sites (2%) | ₹1000 | ₹20 |
| 3 | Bill Payments (2%) | ₹5000 | ₹100 |
| 4 | Other Expenses (1%) | ₹6000 | ₹60 |
| | Total | 17,000 | ₹430 |
Thus by using this card I get the benefit of about ₹430 every month on the expense of ₹17,000. Annually it become ₹5,160. It is a very good amount. You can also calculate your cash benefits.
Recommended- Debit Card Vs Credit Card
3. Interest and Other Charges
There are no free lunches. In this case your cashback are financed by the Amazon. Which in turn gets benefit of higher purchases.
besides this credit card companies also earn by charging the high interest and late fees. You must know about these charges before availing any of the credit card. Otherwise, you would learn it in a hard way.
i. Interest rate of Amazon Pay ICICI Bank Credit Card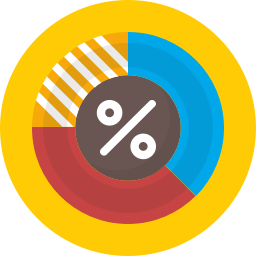 All the credit card including this one gives you loan for the purchase. All this loan is billed to you every month. You have to pay the billed amount before or on due date.
The credit card company does not charge any interest if you pay your credit card bill on time. So, in this case it is a interest free loan.
But once, you miss the due date, the interest and charges would be very high. Moreover, this interest would be charged from the date of purchase. In this situation, the bill date would not have any significance.
Most of the credit card companies charge more than 3% monthly interest. The Amazon Pay ICICI Bank Credit Card also charges 3.5 -3.8% interest rate per month. It translates into 42% annual rate.
Now compare this rate with your saving account interest rate which is only 3%. That is why, I have said that the interest rate of credit card is very high.
Once you default in bill payment, the cashback earning of whole year may be wiped by the high interest rate. So Beware!
ii. Late Payment Fees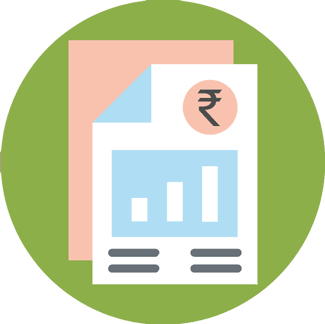 No only the interest rate, the credit card companies also charge late payment fees. It is charged if you don't pay the bill on time.
The late Payments fees is linked with the outstanding amount. This fees starts with ₹100 and goes upto ₹750.
| Total Amount Due | Late Payment Charges |
| --- | --- |
| Less than ₹100 | None |
| Between ₹100 – ₹500 | ₹100 |
| Between ₹501 -₹10,000 | ₹500 |
| More than ₹10,000 | ₹750 |
The late Payment Fees of Amazon Pay ICICI Bank Credit Card (Source – MITC)
You can avoid the late payment fees if you pay the minimum due amount. You can see the minimum due amount on your bill along with the total due amount.
Note, Minimum due amount does not protect your from the high interest charges. It would be charged as usual.
You must note that cash withdrawal from the ATM is very costly. You should rarely withdraw cash using the credit card.
In this case, the interest would be charged from the first day. Moreover, you have to also pay the cash withdrawal charge.
There many more charges of Amazon Pay ICICI Bank Credit Card. You should check them out as well.
Useful Post- How To Pay SBI Credit Card Bill
4. Is Amazon Pay ICICI Bank Credit Card a Good Card?
In this post I have told you the benefits and charges of the Amazon Pay ICICI Bank Credit Card. Now you have a fair idea of the credit card in general and Amazon Pay ICICI Bank Credit Card in particular.
Now I would explore whether this is a good card for you?
i. Amazon Pay ICICI Bank Credit Card is Good Card, If you…
Regularly use the credit card.
Spend a good amount in online purchases.
Prefer payment through the card instead of the cash
ii. Amazon Pay ICICI Bank Credit Card is a Very Good Card, If You…
Frequently shop at amazon.in
Are a Amazon Prime Member.
Pay your bills online
Also use the Amazon partner sites. Here you can find the list of these retailers.
iii. Amazon Pay ICICI Bank Credit Card is Not Good, If You….
Can't keep track of your credit card bill.
Often overspend than your means.
Have any chance of credit card default.
Credit card can be beneficial if you use it wisely. But, if you don't follow the rules, It would hit you hard.
However, if you want to possess a credit card the Amazon Pay ICICI Bank Credit Card would be a good option. As it is most rewarding credit card with zero regular charges.
To avoid the costly default, you can go for the auto debit facility. In this facility the credit card bill amount is automatically debited from your saving account. Thus, you would never miss the due date.
5. How Can You Apply for Amazon Pay ICICI Bank Credit Card | Eligibility and Process
Now you may want to know the process to get this credit card. What is eligibility criteria for Amazon Pay ICICI Bank Credit Card card? What is the Application Process? In this section I would tell about all these things.
This credit card is not open for all. Anyone can't Apply. The Card is only for the selected Amazon Customers. It is a 'Invite Only' Credit Card. You can apply only through the Amazon.in.
i. Eligibility Criteria?
The Amazon and ICICI Bank has devised some criteria to select the eligible customers. But, they don't disclose their criteria.
But on the basis of public experience. I have made some assumption about their eligibility criteria. Note, it is only my assumption. It is not official.
Amazon give preference to those customer who prepay for their orders.
Customer who frequently order using Pay on delivery may not be selected.
I assume that those who often return their goods are also not chosen.
It helps if you used your existing credit card for the payment. By using your existing credit card, they can find out your credit history.
The customers who already have ICICI bank credit card, gets the invite very easily. The bank already know your credit history and your identity.
You should use same mobile number or email ID for the Amazon account and credit card account. It is used to know more about you.
There is also a preference for the Amazon prime Members.
ii. How To Apply
The Application for Amazon Pay ICICI Bank Credit Card is processed through the Amazon. You can't directly go to the ICICI Bank. Thus you have to visit the Amazon Page for the Credit card Application. You can visit this page only after the login to your amazon account.
In this page, if you would see a button for the Apply Now. If you are eligible, this button would be active. Else, It would remain inactive and you would see the following message.
"In the first phase, we're offering this card to select customers only, working towards making it available for you soon."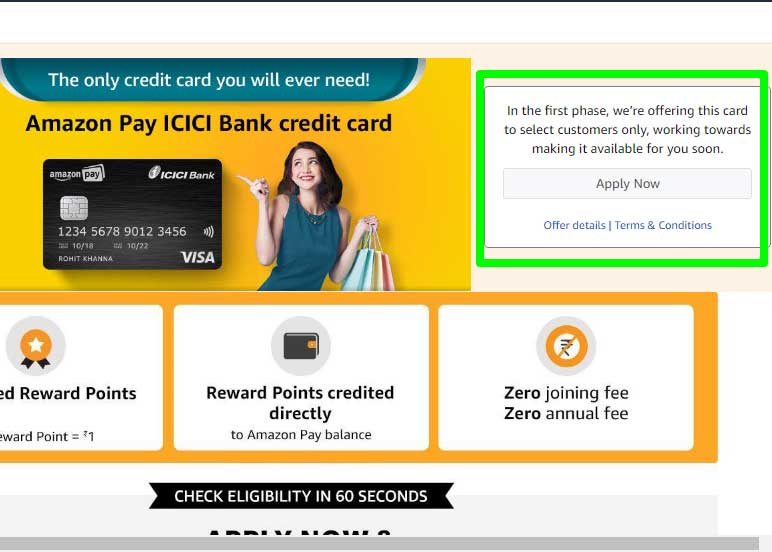 iii. Application Process for the existing ICICI Bank credit card customers
The application process is very easy for the existing ICICI Bank credit card customers. You have to enter only your mobile number and existing credit card number. Further, it does not require any documents and your credit card is generated instantly.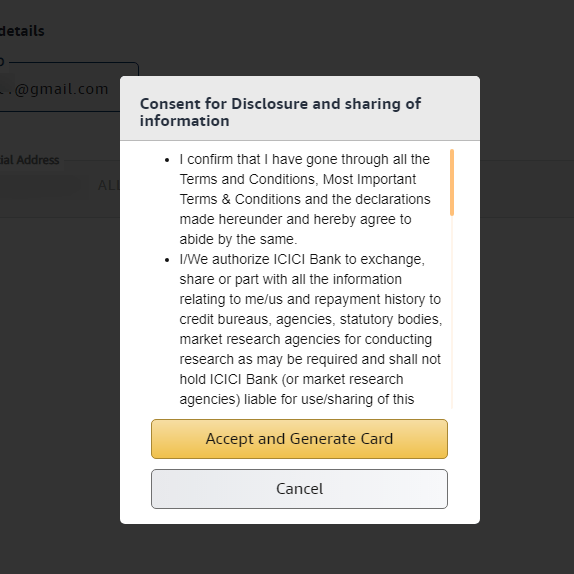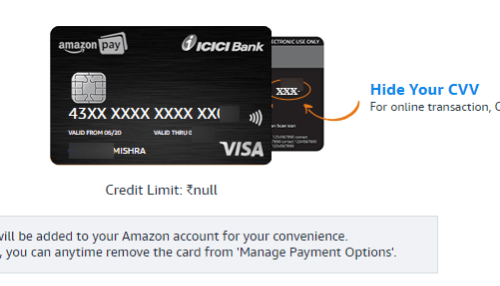 Since, I am already ICICI Bank credit card holder, My application was processed instantly. Within 5 Minutes, I got the new credit card number and cvv number. The physical credit card was sent within 7 working days.
iv. Application Process for Non- ICICI customers
The Application process for other amazon customers are not so easy. As they have to go through the normal process of credit card application. In this process, you have to give all of your identity and address detail.
The ICICI Bank agent would visit to your place for the collection of documents and KYC. You have complete all of your KYC formalities. You have to also give your income proof. It can be salary slip/bank statement or Income tax return of last 3 years.
SBI Card has started the Video KYC. In future the same can also happen with the ICICI bank.
Further, your application would go through the approval process. The ICICI Bank would also inquire about your credit score from the CIBIL. The whole approval process may take up to one month.
After the approval you get the message. The card would be added to your Amazon Pay account. After few days you would also get the physical card.
6. How Can This card Give such Benefits
You would be wondering how Amazon Pay ICICI Bank Credit Card can give such great benefits. Let me decode it for you.
This is a co-branded card. ICICI and amazon both support this card. Because of dual support this card gives more benefits. But, it is also a win-win for the Amazon and ICICI Bank.
i. The Advantage to ICICI Bank
The ICICI Bank does not charge any joining fees or annual fees for this card. It might be also bearing 1% cashback.
Today credit card loan is least risky loan for banks. This category of loan has lowest NPA.
Thanks to the CIBIL Score, now banks can easily identify the low risk borrower. That is why banks are pushing for more and more credit card customers. Even they are ready to charge nothing as annual fees or joining fees.
Banks earn MDR for every credit card transaction. It is 2-3%. To get this commission, they have to only give interest-free loan for average 20-25 days. No other bank loan would earn such an amount.
Of course there are some other costs as well but for the banks, it is a good source of income.
There are chances of default by some customers but the sky-high interest rate and late fees Compensates the rare defaults.
Also, because of the Amazon association, there is low chance of default. People don't want to jeopardize such a beneficial credit card.
ii. Advantages to the Amazon
As you know this card gives you much more benefit when you shop at Amazon.in or at Amazon associated sites. Thus, you can assume that the extra benefit is given by the amazon. Following are the reasons for Amazon's graciousness.
It brings high net-worth customers to Amazon. The card is only for such customers. Not for general public.
People would prefer amazon for the sake of cashback.
Because of the credit facility people spend liberally.
Amazon can easily bring customer to its Amazon Pay wallet and services.
It would also help in retaining the Prime membership. Prime Membership has the annual charge of ₹1,000 and Monthly charge of 129. It gives a regular stream of income for the Amazon.
7. Some Frequently Asked Questions
Where Can You use This card?
The Amazon Pay ICICI Bank Credit Card is Visa Powered credit card. It means This card is accepted everywhere. You can use it offline and online. You can also use it for the PayPal Payments and international Payments. It also gives you the touchless Tap and Pay facility.
There is one suggestion. If you do not intend to use this card for international transaction.You should deactivate that service. You can do it online and by calling the customer care. It would keep your card safe.
Is Amazon Pay ICICI Credit card free? Any Hidden charges?
It is free. No Hidden charges except the charges associated with any of the credit card. For the charges you should visit MITC page of this card.
What is the limit?
The limit for your Amazon Pay ICICI Bank Credit Card is not fixed. It is decided by the ICICI Bank on the basis of paying capacity. The regularity and amount of your income plays a big part in deciding the credit limit.
Your credit score is also considered for fixing the limit. If you have pre-existing ICICI Bank credit card. The credit limit would same for this card as well.
Why it is Best Credit Card of ICICI bank?
Nil Charges No Tension
Minimum 1% cashback. No Issue
Upto 5% cashback
Can I Club reward with other offers?
Often Amazon gives cashback offer for the different cards. It may happen that ICICI Bank credit card is also giving 10% cashback.
In this case, you may avail the cashback offer along with the rewards. But if it is clearly stated that no two offer or rewards can be taken simultaneously, you would not be able to enjoy both.