There are many airtel subscribers who have become the customers of Airtel Payment Banks. Meanwhile, they have found out that this bank charges heavy fees for the money transfer to another bank account. There are other types of charges as well. In this article, I have listed the various charges of Airtel Payments bank. Note, I have taken these charges from the website of the payment bank on 24 September 2018.
List of Payment Banks in India and their Headquarters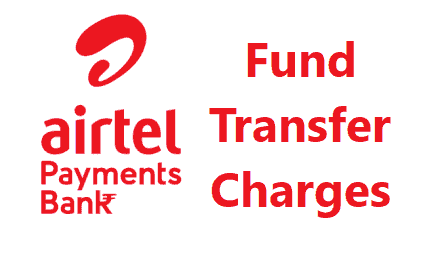 Money Transfer Charges From Airtel Payment Bank
Following are the money transfer charges of Airtel Payment  bank through Internet banking, Mobile App & USSD
Within Airtel Payments Bank –  FREE
From Airtel Payments Bank to another Bank –  1% of the amount transferred
Did you notice the charge of 1% for fund transfer to another bank? It would mean that for the fund transfer of ₹1,00,000, the bank would charge hefty ₹1000. Compare it with UPI Payment system which is free up to ₹1 lakh. So Airtel Payment Bank customers beware, never ever use IMPS, USSD and mobile app of the Airtel Payment bank to make transfers.
=> Note, if you use the NEFT the charges would be as prescribed by the RBI. So, If required use the NEFT for making payment from the Airtel Payment Bank.
Cash Withdrawal Charges
Up to ₹25000 in a month –

Free

Beyond ₹25000 in a month-

0.65% of the withdrawal amount
Like other Banks, the Airtel Payments Bank also charges fees for the cash withdrawal. But in this case, the limit is lower. The cash withdrawal charges start if you withdraw more than 25 thousand in a month. So if you withdraw ₹1 lakh in a month. the 75,000 amount would be chargeable. The fees on this amount would be ₹487.5.
=> Note, you can't withdraw more than ₹25 thousand in a single transaction.
Useful: Airtel Payments Bank Customer Care and Toll-free Helpline
Domestic Remittance Charges of Airtel Payment Bank
Domestic Remittance Charge –

₹5 per one 1,000 (Inclusive of taxes)
The Airtel Payment Bank also gives the domestic remittance service. By using this service one can transfer the amount without using the bank account. You can transfer maximum ₹25,000 using this channel. The remittance fees for ₹25000 would be ₹125.
| | | |
| --- | --- | --- |
| From (Rs) | To (Rs) | Charges (Rs) |
| 10 | 1000 | 5 |
| 1001 | 2000 | 10 |
| 2001 | 3000 | 15 |
| 3001 | 4000 | 20 |
| 4001 | 5000 | 25 |
| 5001 | 6000 | 30 |
| 6001 | 7000 | 35 |
| 7001 | 8000 | 40 |
| 8001 | 9000 | 45 |
| 9001 | 10000 | 50 |
| 10001 | 11000 | 55 |
| 11001 | 12000 | 60 |
| 12001 | 13000 | 65 |
| 13001 | 14000 | 70 |
| 14001 | 15000 | 75 |
| 15001 | 16000 | 80 |
| 16001 | 17000 | 85 |
| 17001 | 18000 | 90 |
| 18001 | 19000 | 95 |
| 19001 | 20000 | 100 |
| 20001 | 21000 | 105 |
| 21001 | 22000 | 110 |
| 22001 | 23000 | 115 |
| 23001 | 24000 | 120 |
| 24001 | 25000 | 125 |