AEPS is a very advanced Payment System. It gives you money without ATM or Cheque book. Even you are not required to remember  your bank account number. You have to only give your mobile number. This payment system uses your Aadhaar data for the authentication.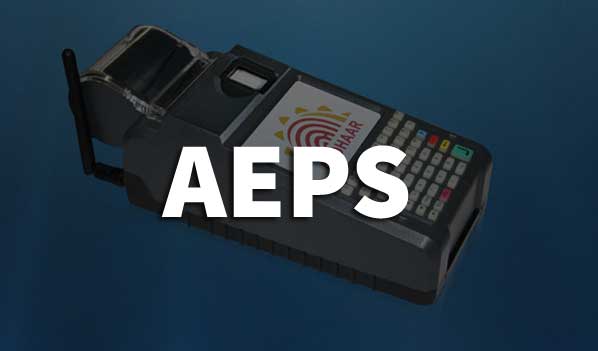 1. AEPS: Full Form And Meaning
The Full Form of the AEPS is Aadhaar Enabled Payment System.
It means this payment system uses your Aadhaar Number for the authentication. On the basis of your Aadhaar data, you can receive cash or send money.
Different Payment system used different modes for the authentication.  IMPS uses your mobile number and MPIN. NEFT uses your transaction Password and OTP sent to your mobile. ATM uses your debit card and ATM PIN
Similarly, AEPS uses your finger print/ iris for the authentication. Since this system works on Aadhaar data, Mobile number registration or smartphone app is not necessary.
AEPS के बारे में हिन्दी में पढ़ें
2. Benefits of Aadhaar Enabled Payment System
You can Pay money, deposit amount, get mini statement and check balance.
AEPS works with Micro-ATM. This handheld ATM can go anywhere. Thus you can get cash in remote areas as well.
A banking correspondent of any bank can do the specified transaction of any bank. you can find banking correspondent in rural areas as well.
There is no need of signature or debit card.
It is fast and secure. No one can forge your fingerprint.
Banking correspondent can reach to the distant rural place with the micro POS.
Shopkeepers can also use AEPS to take payments
3. What Can You Do through the AEPS
The Aadhaar Enabled Payment System gives you banking facility on the go. However, It gives you only basic services. You can avail these 5 services through the AEPS.
Balance Check
Cash Deposit
Cash Withdrawal
Mini Statement
Aadhaar to Aadhaar Fund Transfer
The Aadhaar to Aadhaar fund transfer mechanism is used for the Merchant payment. A shopkeeper has to use the dedicated app for this purpose.
Except for Fund transfer, you can perform all the transactions through the banking correspondent of any bank. For fund transfer, you need the Banking correspondent of your own bank.
4. Requirements for AEPS
Through the Aadhaar Enabled Payment System (AEPS), you can get money without producing any paper or card. However, you have to fulfill some requirements.
Your Aadhaar number should be registered with your bank account. If you did not link your Aadhaar with a bank account the Aadhaar Enabled Payment System would not be useful to you. For AEPS transaction, you need the following information.
Aadhaar Number
Bank IIN or Name
Fingerprint
It means you have to only remember your Aadhaar number to do the bank transaction. It is just like remembering own mobile number.
5. What is IIN in AEPS
IIN Stands for the Issuer Identification Number. The NPCI issues this 6 digit number to those banks which participates in AEPS. The AEPS system recognises a bank on the basis of the IIN.
For a fund transaction, the Aadhaar number and IIN are required. Since an Aadhaar number can be linked to various bank account number the IIN differentiates among them as different banks would have different IIN. There is only one IIN for a bank irrespective of the branch. Such as the IIN for the SBI is 607094.
The IIN coupled with Aadhaar number will uniquely link to an Aadhaar enabled bank account with that Bank. Alternatively, instead of entering the digits for IIN, it may be represented at the MicroATM level by the respective banks' name/ logo, which may be selected from a drop-down menu.
IIN of Major Banks
| | |
| --- | --- |
| Bank Name | IIN  |
| Airtel Payments Bank Limited | 990288 |
| Allahabad Bank | 607117 |
| Andhra Bank | 607170 |
| Bank of Baroda | 606985 |
| BANDHAN BANK LIMITED | 508753 |
| Dena Bank | 508547 |
| Bank Of India | 508505 |
| Central Bank of India | 607115 |
| Canara Bank | 508532 |
| Corporation Bank | 607184 |
| Dhanalaxmi Bank | 607239 |
| Federal Bank | 607165 |
| HDFC Bank Ltd | 607152 |
| IDBI Bank | 607095 |
| ICICI Bank Ltd | 508534 |
| IDFC Bank Limited | 608117 |
| Indian Bank | 607105 |
| Indusind Bank | 607189 |
| Indian Overseas Bank | 508541 |
| The Jammu And Kashmir Bank Ltd | 607440 |
| Kotak Mahindra Bank Ltd | 607420 |
| Bank of Maharashtra | 607387 |
| Oriental Bank of Commerce | 508585 |
| Punjab National Bank | 508568 |
| State Bank of India | 508548 |
| Syndicate bank | 508508 |
| Union Bank of India | 508500 |
| UCO Bank | 607066 |
| United Bank of India | 607028 |
| Axis Bank | 607153 |
| Vijaya Bank | 607075 |
| YES Bank | 607223 |
6. Why Aadhaar for Authentication
Remember, at the time of Aadhaar enrollment, your fingerprints and iris image were taken. These biometric data gets linked to the Aadhaar number. These biometric data is unique to a person. No two person have the same iris image or fingerprints.
Thus, your Aadhaar number can be verified by your finger prints. This biometric authentication makes Aadhaar the perfect proof for the banking transactions. Indeed, It has replaced the signature.
7. How Aadhaar Authentication Works
Suppose, you claim to be Vijay and produce the Aadhaar number of Vijay. To verify it, bank official would take your fingerprints in a machine. The machine gives the fingerprint details to Aadhaar Payment app.
The app immediately tallies your fingerprints with the fingerprints of the given Aadhaar. If it matches, the system would permit for the transaction. In case of mismatch, the system would not do any transaction.
8. How Aadhaar Enabled Payment System Works
It is surprising that only through the Aadhaar number you can access your bank account. But it is possible because the Aadhaar is linked to your bank account. This linking leads you to your bank account.
The fingerprint is authenticated by the UIDAI. In response to a transaction, UIDAI tells to the bank about the authenticity of the user. Once, UIDAI authenticates, the bank gives a green signal to the transaction.
Thus, in the Aadhaar Enabled Payment System 6 institutions are involved.
You, the bank customer
Banking correspondent or merchant – The facilitator of AEPS
The bank of BC – The bank to which banking correspondent or merchant is attached
Your Bank – the bank with which you held the bank account
NPCI – It does switching, clearing and settlement of transactions
UIDAI – For finger-print authentication
9. Charges of AEPS
Unlike UPI, the AEPS is a relatively costly transaction. It can go up to Rs 15 for one transaction. On the other hand, UPI charge is free to nominal. For AEPS, three institutions involved can charge fees.
UIDAI may charge a nominal fee for authentication, however, it is not charging yet.
The NPCI charges 10 paise for authentication and 25 paise for settlement.
The bank can charge 1% of the transaction value if it is related to other banks. The minimum fees for other bank transaction would be Rs 5 and maximum fees would be Rs 15.
Know: Latest Debit Card Transaction Charges 
Conclusion
AEPS gives a lot of convenience to the rural people. It brings the bank to their doorstep and saves much time and transport expense. It would be just like a visit of the ATM at every doorstep. That is why government calls the POS as micro ATM.
Recently, the government has launched the BHIM Aadhaar Pay system. It has the virtues of BHIM app as well as AEPS. Using this platform, one can pay to the merchant without the card or mobile. The thumb impression is used for authentication.