In my last article, I told you about 10 features of Phonepe App. And we discussed how it makes your life easy and hassle free. But, besides it, Phonepe app has some demerits as well.
In this article, I shall give you a glimpse of the main advantages and disadvantages of Phonepe App.
+1. Quick and Easy Recharge
You can recharge your Mobile, DTH, Data Card etc. on Phonepe App with a few clicks. No need to go outside for a recharge. You can do it at your home anytime at your convenience 24X7.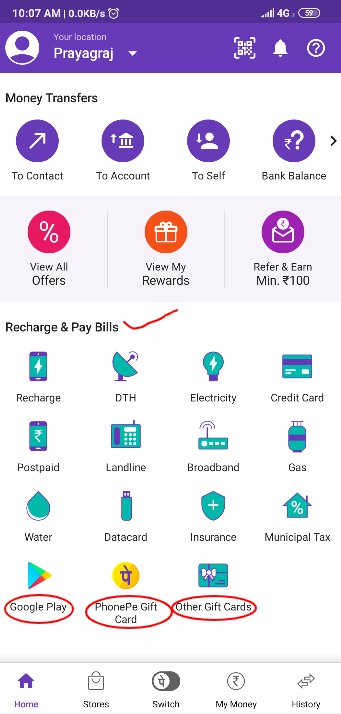 Just tap on Phonepe app. On the home page, tap on the required icon and proceed further. Once you complete the process, you get the confirmation message immediately. Try it and you will find it so easy.
+2. Hassle-free Payment to Merchant
Because of Payment App, Phonepe's main feature is hassle free payment to the merchant. Online or offline shopping, you don't need cash for the payment. Just tap on Phonepe app on your mobile, scan the QR code and pay directly into the merchant's account. Within a few seconds, the process will be completed and you will get the confirmation message.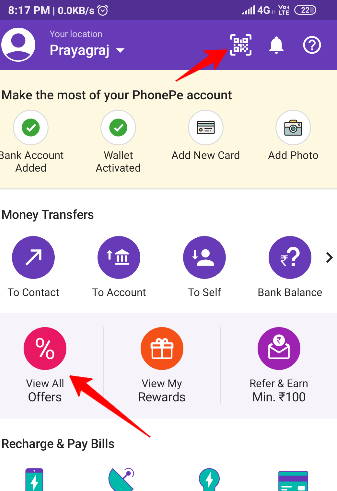 You have different options to pay to the merchant. You can pay through your wallet or directly from your bank account linked with the app. Moreover, you can proceed through the saved debit or credit card in Phonepe app.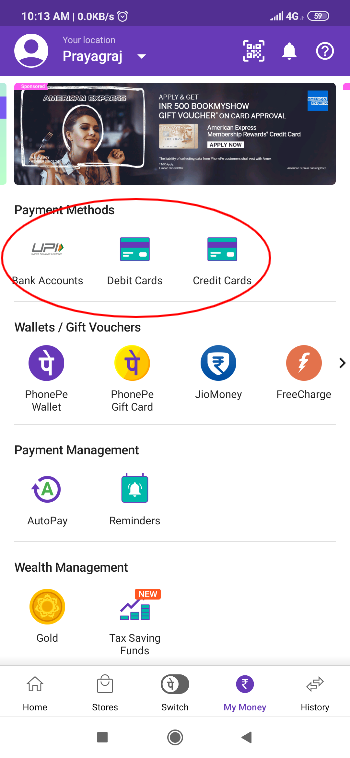 Suggested – Phonepe App For Business
+3. Easy Bill Payment Along with Autopay
Phonepe app is giving the facility of Autopay of your dues. The first time you have to proceed with the process. At the time of making a payment, you will be asked to set for Autopay for the next time. If you choose this option, next time you don't need to proceed with the full procedure.
You can set all the utility bill payments like Electricity, Postpaid mobile bill, Landline Bill, Insurance Premium, Water tax, House tax, and so on with Autopay section.
Moreover, you can set the payment reminder for a comfortable utility bill payment as well. On the due date, Phonepe app will inform you to pay the bill.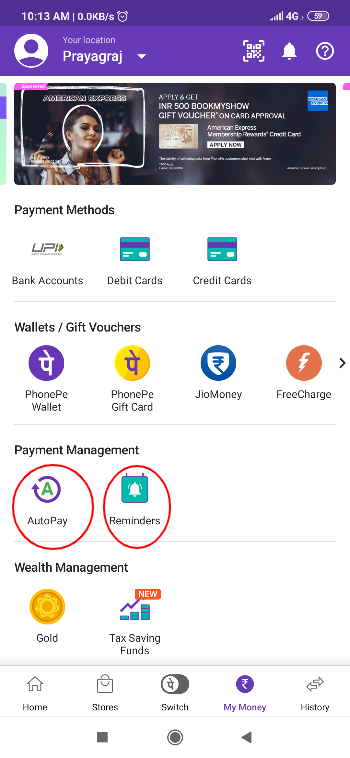 +4. UPI Fund Transfer
Phonepe App is also under the UPI platform like other payment apps. So, you can link your bank account with UPI on Phonepe. Then you can safely transfer the fund through your saved bank account to-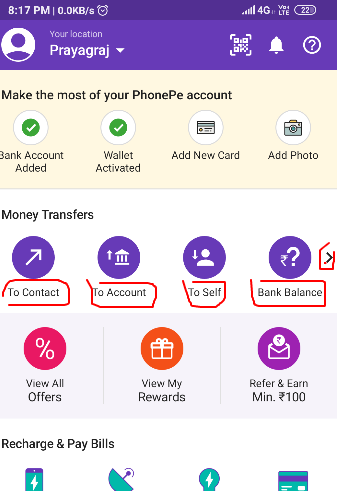 Your saved phone contacts
Any person having Bank account number and IFSC
A mobile number
Your own another Bank account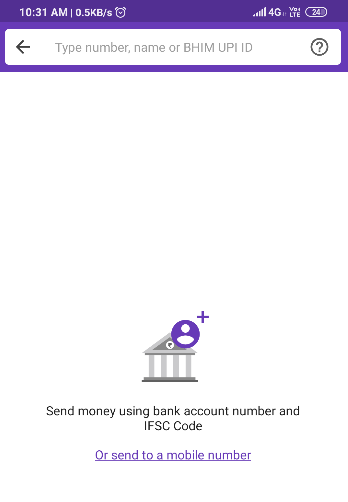 This fund transfer is free of cost. Phonepe doesn't take any charges of it. However, if you transfer money to the bank account through your wallet, you have to pay charges.
+5. Single app for many services
Phonepe app is a single app which is providing different other services in its platform as well. Through the SWITCH option, you can access your favourite app and services with just a few clicks. Only you have to tap on Switch icon on the home page and launch your required app like, Domino's, Olacabs, Grofers, IRCTC, OYO Hotels and many more.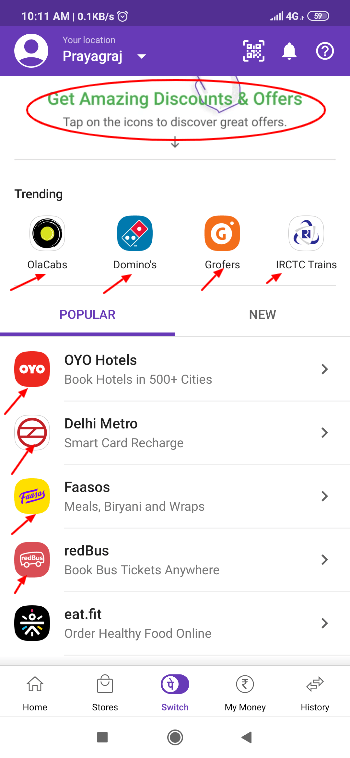 There is no need to download your favourite app separately. You can access it through the Phonepe app. Switch service also offers you the cashback and rewards. It is completely safe to access the apps on Phonepe platform because Phonepe never shares your personal and your payment details with the third party apps.
Besides it, Phonepe is also offering the other wallets services in its platform, like, Airtel Money, Jio Money, FreeCharge and Oxigen. Thus, if you are using any other wallet too, you can access that wallet through the Phonepe platform.
Useful Post – Paytm Vs Phonpe? Which is a Better Mobile App
---
Apart from the above advantages, Phonepe has some limitations as well. However, keeping in view the advantages, we can ignore the disadvantages for some time. Below are the few disadvantages of Phonepe app-
-1. Less Secure (It does not ask PIN or password to open)
The first disadvantage I think, Phonepe is a little less secure. Because when you tap on the Phonepe app in your mobile, the dashboard opens without any authentication. It neither asks you PIN nor password to open. So, because of this demerit, anyone can access the app. However, for further operations, he would be required the passwords or UPI PIN.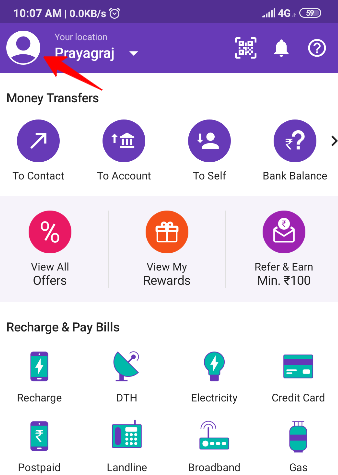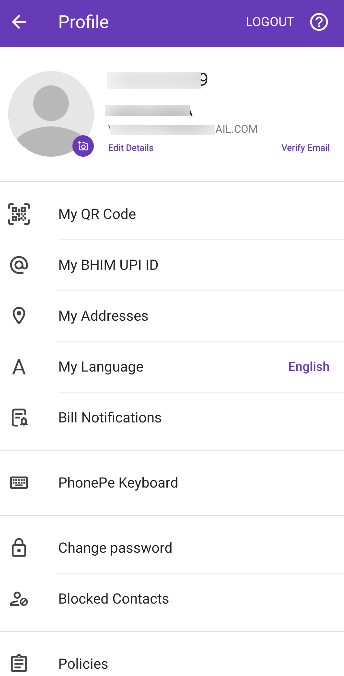 But you can keep safe your app through the session logout every time you exit the app. Just tap on the circle at the top left corner of the home page. The profile page will be displayed. From here you may logout.
Next time at the time of access the app, you have to enter the 4 digit password to login. You have to remember this password when you create it at the time of downloading the app the first time.
-2. Delay in Payment
Sometimes, when you pay through the app, it shows 'Processing continues'. And it remains for a long period. Sometimes 2 to 3 days because of technical issue. However, it happens rarely, but it creates a tension too up to the successful payment message.
However, it may be with other payment apps as well. So, the best way is to wait for a time period, if the problem persists, contact customer care. The toll free customer care number is 0124-6789-345.
-3. Non-Credit of Money
It also happens when you pay to a merchant or any bank account, the message displays, 'Payment Successful'. Your account debits for that amount also, but there is no credit in the receiver's account. Sometimes the credit processing takes more than 24 hours. It gives you mental distress as well.
Sometimes it happens due to a technical problem or a bank holiday. Have patience, just wait, if not received the payment, contact customer care.
-4. Refund of Cancelled Tickets is Tricky
You can book travel tickets through Phonepe app. Also, you can cancel booked tickets through Phonepe. But the ticket should be booked through Phonepe app. The problem arises when there is a refund issue of the cancelled ticket. When you cancel the ticket, after deducting the charges the rest amount credits in your account. But if the trip is cancelled by the service provider like UPSRTC, you would not get a refund.
When you contact customer care for the refund process, it forwards the request to the service provider. If the service provider denies paying, your payment app also denies to pay and ask you to contact the service provider directly. When you request to the service provider, it refuses your request on the ground of non booking ticket directly through its website.
On the other hand, customer care refuses to refund on the basis of ticket booking fees forwarded to the service provider.
-5. No Interest on your Wallet Deposit
Phonepe does not give you interest on your Wallet Deposit. However, other UPI apps who have wallet facility do not give interest as well. But, Paytm has another option of depositing money in Paytm Savings Account. And it provides interest @4% in Savings Account.
Hence, Phonepe is not giving any type of interest on your deposit.
Thus you can see that the advantages are more than disadvantages. Just compare those and try to use this app for hassle free life.