BHIM is still he most popular UPI app. Whereas the Tej is trying hard to woo customer by giving handsome reward. The simplicity and ease of BHIM app is unmatched. Now, it has become to preferred method of fund transfer. This post tells you the 10 most important facts about it. You can download BHIM app from the  Google Playstore.
Payment app for Mobile Developed by NPCI
The BHIM is a mobile app. You can use this app to transfer money from one bank account to another. The fund transfer is very easy. It is like sending an SMS.
The National Payment corporation has developed this app. The government of India has also promoted this app. The NPCI is the same organisation which has developed the IMPS, Rupay and UPI payment system.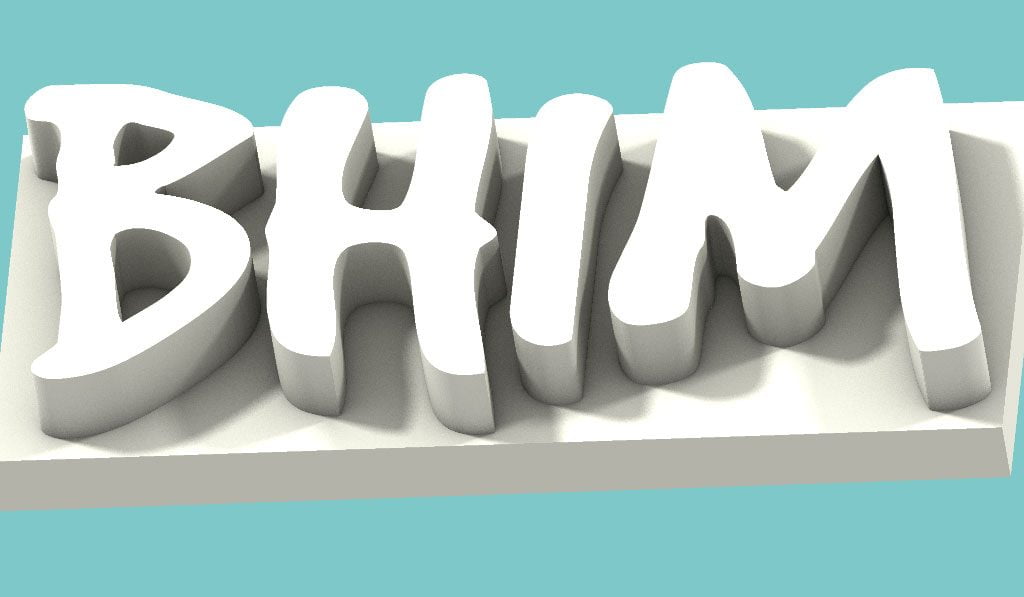 Powered by UPI
The BHIM mobile app is powered by the UPI. The full form of UPI is Unified Payment interface.  You may know that UPI is money transfer platform. The NPCI itself has developed this payment system for money transfer. The UPI was launched in August 2016. Since then, it has grown leaps and bounds. Now, it is the most popular way of money transfer.
Besides BHIM, there are many apps which uses UPI. Every bank has adopted it. Even Paytm has to also ride on UPI. The popular app Google Pay (Tez) is also based on the UPI.
Transfers money Instanty
Because of the UPI, the BHIM app, instantly transfers money to the beneficiary. You would get the confirmation message within few seconds.
The BHIM app works 24×7 throughout the year. Even it don't have a waiting period for new beneficiary. As other methods of fund transfer have a waiting period for new beneficiary.
Does not Require Bank Account Number of Beneficiary
Through the BHIM app, You can transfer money to a bank account without knowing the bank account number or IFSC. In fact, BHIM uses Virtual Payment address to transfer the money. Even, your Aadhaar and mobile number can be also used to to send money.
Through the BHIM, you can send money to contact directly without giving any further details. It is similar to sending the message. However, the beneficiary should have also registered for BHIM.
BHIM is Free
It is surprising but true. This super simple and easy service is totally free. The NPCI is not charging a penny for this system and support. Neither banks are charging for the use of mobile app. Therefore, BHIM is a free mobile app since its launch. Do you know, the payment through the NEFT, RTGS and IMPS is chargeable. Payment through the debit card is much more costly.
You can Ask Money
BHIM gives you the facility to ask money from someone. In fact only UPI apps provide this unique facility. Through the BHIM you can send a collect request to another person. If another person finds your request valid, he/she can pay it immediately just by approving it.
This system of asking money is very useful for merchants. As they can ask money from their customers. This system is far better than card payment as there is no charge for that. It also does not require a swipe machine.
Creates VPA based on your mobile number
BHIM automatically creates virtual payment address based on your mobile number. When you register BHIM first time, it automatically creates the VPA. The VPA stands for virtual payment address. It is used to in place of bank account number. You can get money on this address.
Your auto generated VPA would be aabbccddee@upi if your mobile number is 'aabbccddee'. Thus your are not required to remember your VPA. You can immediately tell it to anyone for money transfer.
You can link any Bank Account
In a single BHIM app, you can link all of your bank account.  Once, you link a bank account, it would always remain linked. However, you can use only one default account for fund transfer at a time. You can change the default  account if required.
When you receive money to your VPA, it would be credited to the default bank account. You can link only those bank account which have the same mobile number.
Direct Transfer To Bank Account
Before the BHIM app, there were many mobile wallets such as Paytm and Freecharge. To use these wallets, you had to credit money to these wallets. If you want to transfer money to someone, you have to transfer it from wallet to wallet. But, BHIM does not require any intermediary. The money directly goes from one account to another. It is just like a bank transfer.
Merchants can Use QR Code to Get Money Through BHIM
The QR codes are the quick way to capture details of product or merchant. The BHIM has also adopted this technique. It generates multiple QR codes to get the money. You can show the generated QR code to get money from the customer.
The merchant can also generate a Static QR code and paste it at the counter. The customer can scan this QR code and pay the amount immediately. There is Bharat QR code which works on every UPI based mobile app.